Various ‎–
Back 2 Balearics (Techno And House Classics From 2002-1992)
Label:
Format:
2 × CD, Compilation

Country:
Germany
Released:
2002
Genre:
Electronic
Style:
Trance, House
Tracklist
1-01

–

Alex Bartlett

My Angel (CJ Stone Remix)

Remix – CJ StoneWritten-By – F. Carrara*, R. Battini*

7:44

1-02

–

CJ Stone

The Sun (Sunshine Radio Edit)

Lyrics By – CJ Stone, Cal Taurus, Felicia Uwaje, Henning ReithMusic By – CJ Stone, Henning Reith

3:33

1-03

–

Nordlicht

Within Each Of Us

Lyrics By – André Meyer (2)Music By – André Meyer (2)

4:17

1-04

–

Layo & Bushwacka!

Love Story

Written-By – Layo Paskin, Matthew Benjamin

8:06

1-05

–

Vitamin T. Feat. Sam (3)

In The Name Of Love (Radio Remix)

Featuring – Sam (3)Written-By – Brad Grobler, Gregg Davies

3:34

1-06

–

George Acosta

The Reaper (Club Mix)

Written-By – A. Schmidt*, G. Acosta*, M. Kreck*

4:16

1-07

–

Dee Mark

Seven Days And One Week (Club Version)

Written-By – Emmanuel Top

4:44

1-08

–

Donkey Doo Meets Tory Kay

Sunrise At Home

Lyrics By – Donkey Doo, Mio Mont, Thomas JahnkeMusic By – Mio Mont

3:24

1-09

–

Sonic Inc*

I Feel For You (Marc La Cruz Mix)

Remix – Marc La CruzWritten-By – A. Schmidt*, M. Kreck*

5:24

1-10

–

William Hawk

Sunrise (Radio Version)

Written-By – A. Loeser*, R. Piel*, T. Loose*, T. Schatz*

3:32

1-11

–

VNV Nation

Beloved (Hiver & Hammer UK Dubtrip)

Remix – Hiver & HammerWritten-By – Ronan Harris

3:45

1-12

–

DJ Frost

Poison

7:49

1-13

–

Mauritius

Man 01

5:04

1-14

–

Malixx

Echoes Of Lyra (Fairlight Remix)

Lyrics By – CleotheraMusic By – Felix J. Gauder*, Marco ZaffaranoRemix – Fairlight*

6:40

1-15

–

Mario De Bellis

I Like It

Written-By – M. De Bellis*, T. Stenzel*

5:44

2-01

–

Moloko

Sing It Back

3:35

2-02

–

Basement Jaxx

Romeo

Written-By – Buxton*, Ratcliffe*

3:25

2-03

–

Junior Jack Pres. E. People* Feat. C. Robert Walker*

We Loved (Summer Radio Mix)

Featuring – C. Robert Walker*Presenter – Junior JackWritten-By – C. Robert Walker*, Frank De Gryse*, Vito Lucente

3:51

2-04

–

The Nightgroovers Feat. Deanna

Do It All Night (Soul Providers Vocal Mix)

Featuring – DeannaWritten-By – Jake V. K.*, Melcano, Panama (5)

7:11

2-05

–

Jamie Lewis & Nick Morris

Sunshine Hotel

3:44

2-06

–

Chicco Secci & Robbie Rivera Pres. Soul Logic

Let's Get Together

Presenter – Chicco Secci, Robbie Rivera

3:27

2-07

–

Silverstone

If I Had A Choice (Natural Born Grooves Remix)

Remix – Natural Born GroovesWritten-By – Deekai, J. Harris*, MacMark, R. Van Oosterwijk*, T. Lewis*

7:14

2-08

–

Soul Providers Pres. L'Enfant D'Amour

Deep Inside Your Love

Presenter – Soul ProvidersWritten-By – I. Carey*, J. Papillon*

7:36

2-09

–

The Weather Girls

Your Love (Jamie Lewis Club Mix)

Lyrics By – Arif Vega, Dynelle RhodesMusic By – Arif Vega, Ben Hart*, Dynelle Rhodes, Hubee Held*, Michael RödigerRemix – Jamie Lewis

6:48

2-10

–

Ambassadors Of Love

A Deeper Love (Original Vocal Mix)

Written-By – David Cole, Clivilles*

9:01

2-11

–

Major Boys Feat. Aurelia*

Sous Le Soleil (Original Radio Edit)

Featuring – Aurelia*Written-By – Aurelia Ikor*, Chris Bovet, Mimmo Pisino, P. Brunkow*, Tim B*

4:45

2-12

–

Daniels* & Sin Plomo

Rules Of Life

Written-By – Jack Daniels, DJ Sin Plomo*

10:19

2-13

–

Phosgen (2)

4 The Bassline

Written-By – Lars Müller (2)

3:53
Notes
The durations shown in the booklet are sometimes not correct. Durations given above are taken from a CD player.
Track 1-04 incorrectly shown in the booklet as Layo & Bushwacka! - Love Story (Radio Edit). It's actually the Bushwacka! Remix.

Made in Germany
Barcode and Other Identifiers
Barcode (Text): 40025 8769552 1
Label Code: LC 00877
Rights Society: GEMA / BIEM
Barcode (Scanned): 4002587695521
Matrix / Runout (CD1): 876955-2-1 P+O-57649-A2 08-02
Matrix / Runout (CD2): 876955-2-2 P+O-57650-A1 08-02
Mastering SID Code (CD1): IFPI L962
Mastering SID Code (CD2): IFPI L961
Seller Terms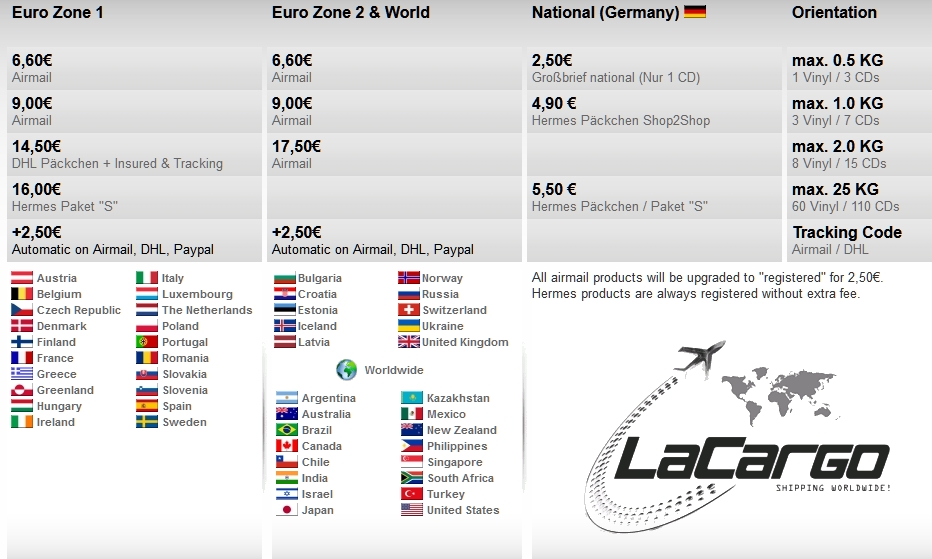 Germany

Standard: 4,25€
1.0 KG / max. 3x 12"
unversichert als DHL Warensendung **ACHTUNG!!! NUR NOCH BIS 31.05.2019**
Registered: 5.50€
25 KG / max. 50 x 12"
versichert via Hermes
Europe & Worldwide airmail standard
6.60€
0.5 KG / max. 1 x 12"
9.00€
1.0 KG / max. 3 x 12"
Flatrate offers EU-Zone 1*




















11.00€
2.0 KG / max. 8 x 12"
16.00€
25 KG / max. 50 x 12"
*EU-Zone 1 = Austria, Belgium, Bulgaria, Croatia, Cyprus, Czech Republic, Denmark, Estonia, Finland, France, Greece, Hungary, Ireland, Italy, Latvia, Lithuania, Luxembourg, Malta, Netherlands, Poland, Portugal, Romania, Slovak Republic, Slovenia, Spain, Sweden and United Kingdom
"Registered" upgrade (tracking code):
2.50€
optional on all airmail products
_______________________________________
Weight calculation
Vinyls
1 12" Vinyl Maxi Single* ~ 0.20 KG
1 12" LP* ~ 0.25 KG
2 12" LP* (Double-LP) ~ 0.40 KG
CDs
1 CD Maxi / Album* ~ 0.10 KG
2 CD (Compilation)* ~ 0.20 KG
3 CD (Box)* ~ 0.25 KG
*Depending on individual covers, press weight, extras.
All items served as supplied. This includes original cases (if not declared otherwise - check comments & grading).
We store all items in protective plastic sleeves (CDs & Vinyls) from the day we take them in stock.
Note that we will require packing space for stiffeners and packaging on every sending (+ 0.30 KG).
Discogs can automaticly calculate and add shipping to the total so you can straight pay on checkout.
_______________________________________
Communication & Order processing
If you have questions regarding your order, please use the communication form in the relevant order so we can assist quickly.
All other requests can be sorted either via PM or email.
We use status updates on discogs to inform you about the processing of your order.
Most items are ready to ship when you order them, some items might require a few days until they're ready.
We will keep you updated on your Discogs order page.
Items can be added until the order is paid for (merge).
If single items are unavailable, you can decide if you want to cancel the entire order, get a partial refund or select replacement.
We'll ship all paid orders a.s.a.p.[!] However, due to the remote location of our warehouse, we only ship 3 times a week.
After shipping, please allow the package a reasonable amount of days to arrive.
We ship from a remote location near Hamburg, Germany.
Most international airmail items are delivered within
14 days
after shipping
. Overseas shipping delays may occur randomly.
Please note that requesting tracking codes require you to use REGISTERED shipping method on checkout.
We will have internal documents for all orders, no matter if standard or registered, so assistance can be provided for every order.
_______________________________________
Packaging
For extra safety packaging, we use special polystyrol material plus recycled cardboard.
Every package is carefully packaged.
polyfoam cuts by Docado Dalet.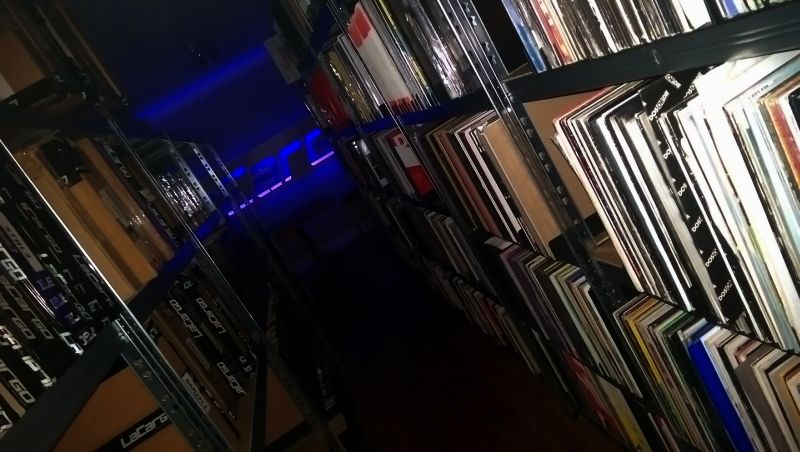 _______________________________________
Payments
We accept:
Paypal
,
Bank Transfer (SEPA)
.
We can't charge credit cards, but most of them can be used in paypal.
We do not add any charges for payment methods, but banking charges for currency conversion are for the buyer.
We do not charge extra for packaging and will use stiffening material to ensure safe shipments.
_______________________________________
LaCargo is a division of Slideout Music Germany.
+ Professional Discogs Seller since 2006
+ VAT registered
+ Fast delivery at low shipping rates
+ Quality packaging, international airmail proof
+ Free insights via social media updates
_______________________________________
audiofiles: © LaCargo | optionally taken from digital sources.
Umsatzsteuer-Identifikationsnummer (USt - IdNr): DE242853283
Contact:
sales@lacargo.de
Website:
www.lacargo.de
Facebook:
facebook.com/lacargogermany
Twitter:
twitter.com/LaCargo