The Netherlands
Joined on November 9, 2002
Releases
Releases Rated 116
Rating Average 4.47
Marketplace
No seller rating
Buyer rating:
100.0% 112
Contributor Stats
Rank Points 4,470
Average Vote 3.98
Votes Received 1,428
Last 10 Day Average N/A
Last 10 Day Votes Received 0
Groups
Profile
Good music comes in many different flavours!
Please feel free to ask any questions you have as long as they are not with a commercial intention (I don't buy vinyl by mailorder anyway) or related to piracy!
Note: I use my wantlist for investigating purposes and it is therefore hidden.
Visitors since March 10th, 2010: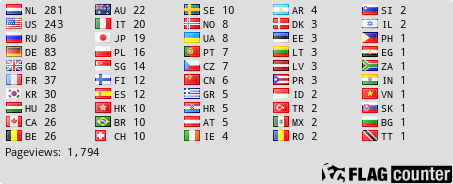 ℗&© Ⓟ+Ⓒ ® ™ € ₤ iƒpi æ Æ
Recent Activity