Ukraine
Joined on November 14, 2016
Releases
Releases Rated 18
Rating Average 4.50
Marketplace
Seller rating:
100.0% 313
No buyer rating
Contributor Stats
Groups
We are here (Subscribe):
Instagram
Telegram
Please read my
"seller terms"
before making an order. An remember that I'm allways willing to find a good deal for you, please just ask and we will find something out :)
Each shipment includes the track number!
If you buy from 5 records and more than 25$ - I give you a 10% discount, from 50$ - 15%, from 75$ - 20%, from 150$ - 25%, Welcome!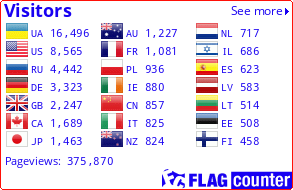 I recommend reading:
How to Store Vinyl Records
Сleaning vinyl records