Releases
Releases Rated 2,560
Rating Average 3.97
Marketplace
Seller rating:
100.0% 967
Buyer rating:
100.0% 329
Contributor Stats
Rank Points 29,003
Average Vote 4.01
Votes Received 4,543
Last 10 Day Average 4.00
Last 10 Day Votes Received 6
Groups
Profile
Just can't resist the great sound from Belgium '87 - '95
Collectors & crate diggers since '90 of many different styles of
♫ ♪ HOUSE MUSIC ♪ ♫
From New Beat to Hands Up!, from Hardcore to Trance & from Hardstyle to Acid.
The birth of my collection:
First (legal) cassette:
Turn Up The Bass - Volume 15
/
Snap! - World Power
First cassette single:
Apotheosis - O Fortuna
First cd:
House Party (The Ultimate Megamix)
First cd-single:
Moby - Go
First 7'':
Sequencial - Psychotronic
First 10":
Ectomorph - 9
First 12'':
Asylum - Hardcore Asylum
My interest in music began at an early age, recording music on cassette from the radio in the early 80's. Radio stations like Radio Monique, Radio Caroline and of course Hilversum 3 were my favorites.
Also some family members were involved in an illegal local radio show that broadcasted only on Saturday's.
Later I discovered "Vara's Vuurwerk", a radio show, hosted by Henk Westbroek, that played rock & metal. This way I was introduced to a whole new kinda music, which was way harder than I ever heard before. (not knowing of what was coming in the 90's of course:) )
Discovering bands like
Slayer
,
Anthrax
,
Metallica
&
Suicidal Tendencies
.
Somewhere in the summer of '85 I heared a track on the local fair which caught my attention, which was
Paul Hardcastle - 19 (Extended Version)
.
It was a complete surprise because I never heard anything like it. You didn't hear this kinda music on the radio, they didn't gave electronic music much attention these days.
Still it would take 2 more years before I would abondon rock & metal music completely. (except for the
Red Hot Chili Peppers
& massive respect to
Queen
!!! )
At the age of 11,
M|A|R|R|S - Pump Up The Volume
was a revelation to me and from there on I was hooked on these crazy sounds.
I got Infected by the new beat / techno sound from our great Southern Neighbours (Belgium of course !) in the late '80's & early '90s.
Spending hours & hours listening to Channel X, from Belgium. The one & only real house station ever !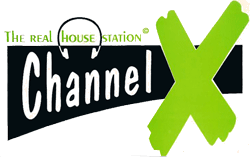 Nowadays on
Channel X
Also the 'For Those Who Like To Groove' radio show hosted by
Robin Albers
& the Dance Top 30 hosted by Martijn Krabbé had a big influence on me.
Not to mention the Turbulentie & Hardcore Power radio shows from Rotterdam 😀
Interested in house music & the many different styles that appeared from it.
Like New Beat, Acid, Techno, Rave, Hardcore, Gabber, Trance, Eurohouse, etc.
Also a big fan of the legendary
DJ Ruffneck
/
Patrick van Kerckhoven
(aliases/collaborations) (since
Asylum - Hardcore Asylum
) ,
Ruffneck Records
& sublabels,
Ruffex
,
Supreme Intelligence
,
Gangsta Audiovisuals
,
Enzyme
, etc.
I also like to mix some tunes when I have time for it.
WE DO NOT SELL ANYTHING FROM OUR PERSOLNAL COLLECTION !!
Also WE DO NOT respond to requests for ripping cd's to digital content.
PLEASE UNDERSTAND THE Goldmine Standard for grading the condition of items listed in the Marketplace BEFORE YOU START BUYING
I am simply a
HOBBY SELLER
here on Discogs, I do have a normal dayjob & a family. So please do consider that, as I'm not able to respond immediately. Although I always try to respond within 24 hours. All items for sale mostly come from our own collection (things come & go over the years & even some disappointing purchases). So, all items have been checked and completely listened / viewed, to make sure nothing skips, has errors or anything like it. If you buy an item from us and it does skip or has an error,
ALWAYS CONTACT US BEFORE GIVING FEEDBACK!
Problems are there to solve them !!
Recent Activity