Monkey Island
Joined on January 11, 2006
Releases
Releases Rated 2,654
Rating Average 4.65
Marketplace
Seller rating:
99.2% 604
Buyer rating:
97.4% 578
Contributor Stats
Rank Points 2,040
Average Vote 3.57
Votes Received 67
Last 10 Day Average N/A
Last 10 Day Votes Received 0
Groups
Profile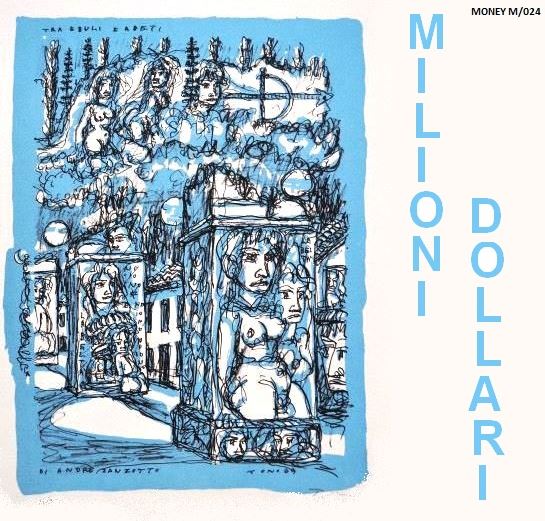 NOWADAY'S RECORD COLLECTING BE LIKE (A SHORT MANUAL):
1.) GET A RECORD – PREFERABLY AN OBSCURE OR RARE LOOKING ONE – AT ANY PRICE
2.) MAKE A PICTURE AND POST IT ON INSTAGRAM – QUICK, QUICK!
3.)* RECORD A POINTLESS 10 SEC. AUDIO CLIP TO PRETEND THE WHOLE THING SOUNDS FUNKY, EVEN IF THE REST IS NOTHING BUT CRAP.
4.) ADD A GOOFY COMMENT AND WAIT FOR SOME OTHER USELESS COMMENTS AND LIKES – TO SATISFY YOUR INFERIORITY COMPLEX !
5.) FILE THE RECORD AWAY FOR EVER AND NEVER LISTEN TO IT AGAIN.
6.) START FROM 1.) AS MANY TIMES AS POSSIBLE...
*OPTIONAL
Recent Activity
Action
Description

posted a review of Sven Wunder - Harmonica And.....

8 days ago

The new 7" on Piano Piano comes out of nowhere, unannounced and hits like a meteorite. Oh man, how happy I was when I heard it for the first time. What a pearl! It's like the feeling you get when you hear works like

Research Of Sound

for the first time. You...

See full review

posted a review of René Roussel - Rubriques.

3 months ago

René Roussel seems to have been a really obscure figure in the european library scene. At least for me! It the only library record that you can find in his discography, that is fairly short, too. But this fact does not make this record less...

See full review

posted a comment on Federico's Group - Riflessi.

about 1 year ago

Wow, this is a real surprise for a library from 1990! Ambient in the form of chilly breeze vibes performed by a imaginary group by a bandleader that probably never existed. Partly melancholic, partly mysterious, but always breezy and fresh with a...

See full review

posted a comment on Rory More - Through The Dappled Dell.

about 1 year ago

Absolutely brilliant and (to this day) quite overlooked record. Another gem, suitable for cinematic connisieurs and library fans. One can smell and hear the love and passion for Britih library music on almost every composition. Been almost addicted to...

See full review

submitted Ib Glindemann - Release No. 1 - Psychedelic-Happening-Hip World.

about 1 year ago

posted a comment on Sven Wunder - Natura Morta.

about 1 year ago

posted a comment on Sven Wunder - Snowdrops.

over 2 years ago

This little treasure is really incredible in all aspects, as we are already used to from Piano Piano's output. Again, the cover presents beautyfully handcrafted art and is done in the good ol' italian library manner, with a fancy font remembering...

See full review

posted a comment on Girolamo Ugolini - Nel Mondo Del Lavoro.

over 2 years ago

OK, THIS REVIEW HAS BEEN REMOVED SEVERAL TIMES SINCE THE 19TH OF FEBRUARY, 2019. I WILL PUT IT UP AGAIN AND AGAIN (AND AGAIN!), SINCE THERE IS NO UNTRUTH IN IT. THANKS TO THE PERSON WHO IS REPORTING IT, DUE TO THIS FACT IT STAYS ON THE TOP OF MY...

See full review

submitted Janko Nilovic - Psyc Impressions.

over 3 years ago

posted a comment on Sven Wunder - Wabi Sabi.

over 3 years ago

posted a comment on Ferse, Pirton - Vibrazioni - Jazz Rock.

over 3 years ago

This hidden and (still) widely unknown gem is the perfect record for psych/prog collectors, library aficionados and open-minded listeners, appreciating unusual jazzy accents, occasional but solid funkyness and progressive electronica.

There are at...

See full review

posted a comment on A.R. Luciani* - Elettroencefalogramma.

over 3 years ago

Fine selection with mindblowing electronica made by the almost mysterious Antonio Ricardo Luciani! Here is a list with the original track titles and origin:

A1 - Battery Farm =

Allevamento In Batteria

from

Panorami Attuali

(Montecarlo SM 5006)

A2 -...

See full review

posted a comment on Berto Pisano - Interrabang - Colonna Sonora Originale Del Film.

over 3 years ago

The ‽ symbol, called

interrobang

or sometimes

interrabang

- like in this case - does really exist and is a merging of a

question mark

and a

exclamation mark

, just to spread some useless knowledge.

This particular record...

See full review

submitted Unknown Artist - Production Music.

over 3 years ago

posted a comment on Various - Sensazioni N. 1.

over 3 years ago

This has to be one of the best and simultaneously most obscure library records that I know. Every single thing about it fulfils my deep desires and needs from the mentally deficient library-music-collector point of view. The whole product is just...

See full review

posted a comment on Janko Nilovic - Supra Pop Impressions.

over 3 years ago

My picture cover version of Supra Pop Impressions comes with the black label and the record itself is super solid and sounds great. Have seen the picture cover with a yellow label record also.

It is widely known that the later Montparnasse 2000...

See full review

submitted R. De Filippi*, C. Maioli* - Strumentali.

over 3 years ago

posted a comment on Carmine Rizzo, Carlo Esposito, Orchestra Filarmonica Di Roma Diretta De Olivio Di Domenico - Nel Cosmo N. 1.

over 3 years ago

Have been watching this unknown record on ebay for quite some time and could not find any references or information about it. The space topic plus the composer

Olivio Di Domenico

(who looks like he might be Charlie Sheen's ancestor, by the way) has finally...

See full review

posted a comment on Richard Hayman - Presents The Electric People.

over 4 years ago

So good to see this mystery being solved, thanks a lot for the information. This particular Electric People record sounds like s best of funky Boneschi on Usignolo. And it probably is...

submitted Mario Migliardi - Piero Umiliani - Jazz.

over 4 years ago

posted a comment on Oscar Lindok's Orchestra - The Rhythm Of Life.

over 4 years ago

ORIGINALLY REVIEWED: March 14, 2018

DELETED: 19th of August, 2019

DELETION REASON: unknown

DELETION PRESUMPTION: ignorance

There is a unidentified and medically not demonstrable virus that many record collectors are infected with. A virus that makes...

See full review

submitted Unknown Artist - Thematic Music.

over 4 years ago

posted a comment on Sven Wunder - Doğu Çiçekleri.

over 4 years ago

A little bird told me about this fresh Timmion pressing. Totally love the mastering, cutting and pressing these guys are doing and sometimes I buy records, just because they went through the Timmion process...anyway, this one is quite a huge library...

See full review

posted a comment on Coastal County - Coastal County.

over 4 years ago

posted a comment on Various - Caleidoscope.

over 4 years ago

posted a comment on Various - Mare Romantico.

over 4 years ago

submitted Blondie Calderon and his Latin Sextet (2) - The Soft Soul Sounds Of Blondie Calderon's Latin Sextette.

over 4 years ago

submitted Blondie Calderon and his Latin Sextet (2) - Blondie Calderon And His Latin Sextet.

over 4 years ago

posted a comment on Joël Vandroogenbroeck* - Birth Of Earth.

over 4 years ago

There are quite some

prehistoric

caveman-style libs, like the ones with primitive drumming and so on. Really a huge fan of all of that stuff, but if I had to pick the more interesting ones I would go for these:

These two...

See full review

posted a comment on Piero Umiliani - Preistoria.

over 4 years ago

There are quite some

prehistoric

caveman-style libs, like the ones with primitive drumming and so on. Really a huge fan of all of that stuff, but if I had to pick the more interesting ones I would go for these:

These two...

See full review

posted a comment on Viaggio Attraverso I Problemi Dell'Uomo.

over 4 years ago

posted a review of R. De Filippi*, A. Alessandroni* - Vacanze.

over 4 years ago

This

stroke of a genius

(or rather two geniuses!) is still a little under the radar, at least for my taste. It is a strong contender for the

leisure/holliday

topic...

See full review

posted a comment on Modern Sound Quartet.

over 4 years ago

Oscar Rocchi fans already know the deal with the Modern Sound Quartet and know what to expect. These are just incredibly good and the players are on point with every single note. Love everything about the four releases this group has made and as a...

See full review

posted a comment on Efeso - Magellano.

over 4 years ago

So this seems to be the prequel of the fine

Speleologia

record, released two years later with the composer

Roberto Coccia

under his pseudonym

Efeso

appearing on both of them.

Meduse

is the same tune as it appears on Speleologia. As with...

See full review

posted a comment on Edmondo Giuliani - Il Mare - Musica Con Strumenti Elettronici.

over 4 years ago

The original is certainly no audiophile but it does sound really good, even if this seems to be a ultra-micro press.

posted a comment on Minus "Reggae" Group / The Soft Jazz Group - Instrumental "Reggae" Scene / The Soft Touch Of Jazz.

over 4 years ago

Oddball release on Music Scene and a super underrated one. Especially the tunes on A side written by

Enzo Minuti

. Let me tell you first...this is no reggae at all. If you look for stuff like that, put the record back into the dollar bin. If you are...

See full review

posted a comment on Aquarium Sounds - Aquarium Sounds.

over 4 years ago

This is one beautiful record and i wanted to share some information that i got told by a former

Goblin

band member in a forum, just before this knowledge disappears for the next four decades...

Apparently eight of the ten tunes from this Aquarium...

See full review

posted a comment on Piero Umiliani - La Morte Bussa Due Volte (Colonna Sonora Originale Del Film).

over 4 years ago

posted a comment on Oronzo De Filippi - Meccanizzazione.

over 4 years ago

This is the ultimate, the irresistible, the most extraordinary Oronzo De Filippi record ever! A true masterpiece in every way. If I had to keep only one De Filippi record, this would be it.

I read about this almost mythical record on...

See full review

posted a comment on Bitter-Sweet Group - Immagini E Colori 2 - Bitter Sound.

over 4 years ago

One criminally underrated library heavyweight, that is still quite unknown...

So who the hell is the Bitter-Sweet Group?? Looks like it's another italian library session group with super skilled and talented musicians. One more group where the band...

See full review

submitted Unknown Artist - Brani Vari Per Sonorizzazione.

over 4 years ago

posted a comment on Litoz, Dansco (2) - Ostinazioni (Piccola Serie Ritmica).

over 4 years ago

This elusive record is one of four releases on the enigmatic

Ediphon (2)

label, composed by Vittorio Nadalin and Luigi Zito using their

Dansco (2)

and

Litoz

pseudonyms. It was posted on the...

See full review

submitted Mirot - Apprendista Hitchcock.

over 5 years ago

posted a comment on Shelter (20) - Profondeur 4000.

over 5 years ago

Can't help myself but that album cover looks just too

familiar

, haha! Great ambient record by the way...

submitted Unknown Artist - Problemi N° 1.

over 5 years ago

submitted Narassa - Problemi N° 2.

over 5 years ago

posted a comment on Amedeo Tommasi - Strumentali: Il Mondo Di Quark.

over 5 years ago

Il Mondo Di what? The World Of Curd?? Curd like

cheesecake

??? …without a doubt, this is the weirdest, funniest and most interesting library title that I ever came across. Gold medal winner for sure.

When I read the title, I thought this is a...

See full review

posted a comment on Luigi Malatesta - EMR-06.

over 5 years ago

Another one of those outlandish looking artefacts, that [will] cause a endless spaculation. How can one not love a library record where the first 8 tunes go by the name 'Plancton'?

I assume that this was made in the mid-60s as it has the BIEM rights...

See full review

submitted The Fine Machine - Habitat.

over 5 years ago

posted a comment on Puccio Roelens - Musica Per Commenti Sonori : Lipstick.

over 5 years ago

After Feelings and Research Of Sound I consider the Lipstick record the best of Puccio Roelen's work. This album is so good and in my opinion kind of underrated. Maybe it is underrated bacause it is dated to 1979, which is a period that many...

See full review