Toronto, Ontario, Canada.
Joined on December 4, 2007
Releases
Releases Rated 7,750
Rating Average 4.53
Marketplace
Seller rating:
100.0% 1,293
Buyer rating:
98.9% 87
Contributor Stats
Rank Points 13,176
Average Vote 3.94
Votes Received 1,567
Last 10 Day Average N/A
Last 10 Day Votes Received 0
Groups
CANADIAN MUSIC LOVERS
SHIPPING IS NOT $69.69, IT WILL BE FAR, FAR LESS. PLEASE ALLOW ME THE OPPORTUNITY TO ADJUST YOUR INVOICE BEFORE SENDING PAYMENT!
1 x LP shipping costs range from $12.00 CAD to $22.75 (Remote/Northern locations)
Inquire with address for exact shipping quotes
Follow me on instagram for pics and sound samples of my listings, including early access to items not yet listed on discogs! @
pabloplato_records
, and check the accounts I follow for more goodies shipping from Canada or from Canadian stores to visit in Toronto!
*Support CANADIAN record suppliers - We're all in this together!*
Find pics of copies available for sale and audio samples from vinyl records on my instagram, @
pabloplato_records
𝕔𝕠𝕣𝕠𝕟𝕒𝕧𝕚𝕣𝕦𝕤 𝕦𝕡𝕕𝕒𝕥𝕖:
Note that due to the covid pandemic, some mail systems are experiencing delays as workforce is reduced in order to allow for distancing, or borders are not allowing flights that would normally carry passenger/cargo, so items may be sent by sea. I have yet to experience a delay longer than 2 weeks for airmail since covid-quarantines began around the world, but just in case,
my shipping carrier is suggesting the 7 to 75 business day time frame for all international deliveries.
Stay safe, stay positive, & keep on dancing!
Meus amigos Brasileiros
Os embarques de baixo custo para o Brasil foram retomados, mas podem demorar - espere atrasos no desembaraço aduaneiro, além de atrasos no trânsito.
Por favor, seja paciente. O correio aéreo registrado é altamente recomendado para todos os pedidos.
A mis amigos Chilenos
Les pido disculpas pero por ahora no es posible enviar a su país por ningún método de envío. Las fronteras chilenas no permiten el ingreso de vuelos hasta que se haya logrado controlar la propagación de la infección. Lo siento. Cuídense y tomen precauciones para protegerse y proteger a sus comunidades.
slick mix + more
Visual Artist / Designer (Graphic / Interaction)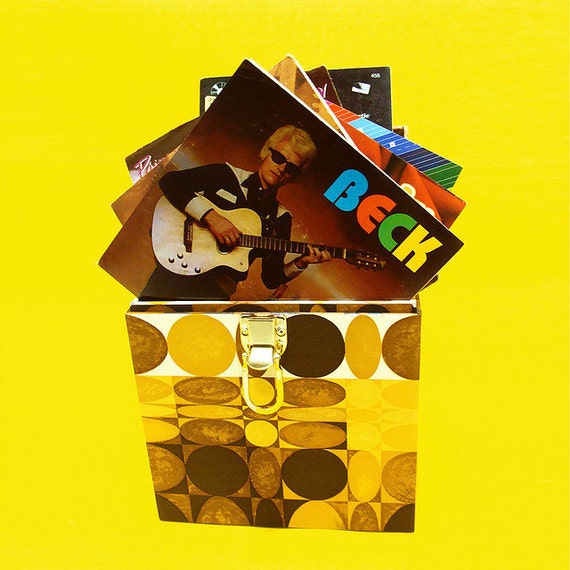 click here to purchase a handmade record box
① ② ③ ④ ⑤ ⑥ ⑦ ⑧ ⑨ ⑩ ⑪ ⑫ ⑬ ⑭ ⑮ ⑯ ⑰ ⑱ ⑲ ⑳
Recent Activity

submitted Rossini*, Rome Lyric Opera Orchestra*, E. Brizio* - Highlights From The Barber Of Seville.

5 months ago

submitted Edvard Grieg, Emil Gilels - Lyrische Stücke • Lyric Pieces.

7 months ago

submitted Jan Hammer - Beyond The Mind's Eye.

8 months ago

submitted Soho (2) - Hippychick.

8 months ago

submitted Tony! Toni! Toné! - Feels Good.

8 months ago

submitted Urban Cookie Collective - Feels Like Heaven.

8 months ago

submitted Jon Secada - If You Go.

8 months ago

submitted Floorfilla - Italodancer.

9 months ago

posted a comment on FSOL* - We Have Explosive.

about 1 year ago

So will this be available at a later date un-numbered as a standard (but otherwise identical) release as they did with Yage 2019 and Cascade 2020?

submitted Buddy Merriam - Back Roads Mandolin.

about 1 year ago

posted a comment on Kate Bush - Kate Bush.

about 1 year ago

Based on the collection stats, the most common to rarests of the Canadian colour editions are the White, Gold, Green, Blue, Brown and Clear. The Red is a myth that has not been proven to exist.

submitted Robert Charlebois - Les Grands Succès Barclay Vol. 21.

about 1 year ago

submitted Jimmy Lunceford* - Powerhouse Swing - Dance Hall Days.

about 1 year ago

submitted George Clinton - Some Of My Best Jokes Are Friends.

about 1 year ago

submitted Philip Glass - Glassworks.

about 1 year ago

submitted Egberto Gismonti - Sol Do Meio Dia.

about 1 year ago

submitted Charles Mingus - Lionel Hampton Presents: The Music Of Charles Mingus.

about 1 year ago

submitted Charlie Haden, Carla Bley - The Ballad Of The Fallen.

about 1 year ago

submitted Cal Tjader - Good Vibes.

about 1 year ago

posted a comment on Japanese Telecom - Japanese Telecom.

about 1 year ago

Rather uninspired artwork :/
Glad I have an original with artwork from Demo Design.

posted a comment on Jasmine (2) - Satisfied.

about 1 year ago

Mariah did, in 1991. The team behind Jasmine obviously nicked it from her.

submitted Nev (2) - Busted / Round-A-Bout.

about 1 year ago

submitted Roy Strachan - Pluggy Song.

about 1 year ago

submitted 松竹歌劇団 - 吉例第33回 東京踊り主題歌.

about 1 year ago

submitted All Rounder And Lady Wonder - ...Here To Stay.

about 1 year ago

submitted Ghettovision - Transformers / Skill 4 Skill.

about 1 year ago

posted a comment on DMX Krew - Strange Directions.

about 1 year ago

I had no issues until D3, a moody downtempo tune, so you really notice the crackle. :(
Other than that, it was a great album and I don't hate myself for having bought it. It'll be one I'll be spinning again and often despite the flaw.


submitted Valerie M* - Show Me Love.

about 1 year ago

posted a comment on Orbital - In Sides / The Box.

about 1 year ago

Someone who owns this needs to do as high quality as possible digital transfer of The Box video and post it on youtube, please! It seems that the masters got tossed out by the labels (probably as the smaller labels got swallowed up by the majors) and...

See full review

submitted Robert Plant And The Strange Sensation - Molson Amphitheatre Toronto July 6, 2005.

about 1 year ago

submitted Pipedream - Quicksand.

about 1 year ago

submitted Golden Chile' - The Chozen One (Radio Edits).

about 1 year ago

submitted Holly Cole - Holly Cole.

about 1 year ago

submitted Various - Forward Ever - Backward Never - The Mayday Compilation Vol. II.

about 1 year ago

submitted Various - Songs Of The Sea.

about 1 year ago

submitted The House Of Haunt - Highway Horror CD Single.

about 1 year ago

submitted Pachelbel* - Pachelbel Canon And All The Best Baroque Favourites.

about 1 year ago

submitted Tony Massarelli - Tony Italiano.

about 1 year ago

submitted Publicist - Keep It Off The Record.

about 1 year ago

posted a comment on Econoline Crush - Wicked.

about 1 year ago

It's a shame that who ever cut this record fumbled the task so badly. Wicked is a great industrial-rock tune, and the A side sounds great, but the B side with the original version sounds bad. I'm aware that the song utilizes heavy panning between the...

See full review

submitted MAW Electronic - Tranz / Body.

about 1 year ago

posted a comment on Aaliyah - Aaliyah.

about 1 year ago

You didn't even finish the album? You missed out on some great vocal performances and dramatic delivery from her, especially on I Can Be and I Refuse.

And the artists that worked with her and wrote for her, wrote some of their best, career defining...

See full review

submitted Susumu Yokota - Grinning Cat.

about 1 year ago

submitted NC17 - NC17.

about 1 year ago

posted a comment on Bomfunk MC's.

about 1 year ago

I always felt like they were piggybacking off the success and sudden mainstream interest of the

Freestylers

, as I knew too many who owned In Stereo due to confusion/mistake when purchasing what they thought was

We Rock Hard

, and none of those owners ever...

See full review

posted a comment on Arpanet - Einstein Ring.

about 1 year ago

You need a membership to buy this from Fundamental Records *rolls eyes*

Why should I spend 50euro to pad the pockets of a label who in the past has treated me with such disrespect as to take my money for a copy of DMX Krew's 100 Tears Ltd. Edition,...

See full review

posted a comment on PJ Harvey - The Devil.

about 1 year ago

Why the fuck did I sell this?? Why was I so reluctant to embrace White Chalk? I've had it on repeat these last few months while stuck indoors and just love it!

posted a comment on Orbital - Snivilisation.

about 1 year ago

Anyone have a poster they're willing to part with? Always loved John Greenwood's illustrations on this album and would love to have a copy to frame.

submitted Lesley Gore - You Don't Own Me.

about 1 year ago

submitted Hare (2) - Where's My Money?.

about 1 year ago