Toronto, Ontario, Canada.
Joined on December 4, 2007
Releases
Releases Rated 7,361
Rating Average 4.51
Marketplace
Seller rating:
100.0% 1,103
Buyer rating:
98.8% 82
Contributor Stats
Rank Points 12,306
Average Vote 3.94
Votes Received 1,534
Last 10 Day Average 4.00
Last 10 Day Votes Received 3
Groups
𝕔𝕠𝕣𝕠𝕟𝕒𝕧𝕚𝕣𝕦𝕤 𝕦𝕡𝕕𝕒𝕥𝕖:
Good news friends - I will once again be able to provide low cost shipments starting June 1st! Some countries may still have disrupted service or have closed their borders to incoming air traffic, so if you're not sure feel free to ask and I can investigate whether or not I will be able to ship to you, but for most countries this problem has not occured.
Note that due to the covid pandemic, some mail systems are experiencing delays as work force is reduced in order to allow for distancing, or borders are not allowing flights that would normally carry passenger/cargo, so items may be sent by sea. I have yet to experience a delay longer than 2 weeks for airmail since covid-quarantines began around the world, but just in case,
my shipping carrier is suggesting the 7 to 75 business day time frame for all international deliveries.
Stay safe, stay positive, & keep on dancing!
Meus amigos Brasileiros
Os embarques de baixo custo para o Brasil foram retomados, mas podem demorar - espere atrasos no desembaraço aduaneiro, além de atrasos no trânsito.
Por favor, seja paciente.
A mis amigos Chilenos
Les pido disculpas pero por ahora no es posible enviar a su país por ningún método de envío. Las fronteras chilenas no permiten el ingreso de vuelos hasta que se haya logrado controlar la propagación de la infección. Lo siento. Cuídense y tomen precauciones para protegerse y proteger a sus comunidades.
slick mix + more
Visual Artist / Designer (Graphic / Interaction)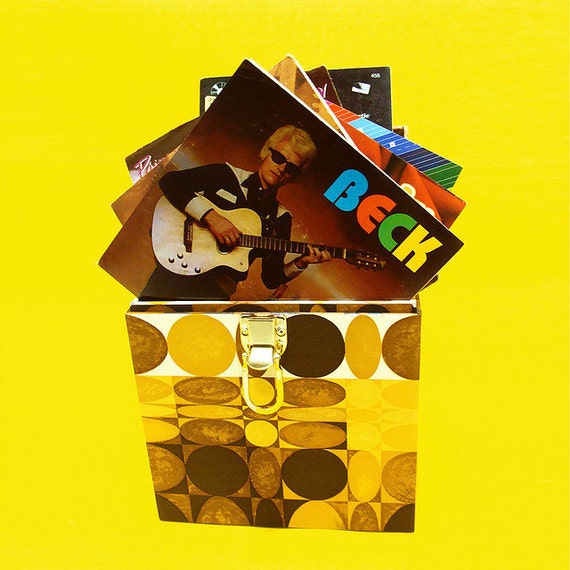 click here to purchase a handmade record box
① ② ③ ④ ⑤ ⑥ ⑦ ⑧ ⑨ ⑩ ⑪ ⑫ ⑬ ⑭ ⑮ ⑯ ⑰ ⑱ ⑲ ⑳
Recent Activity

submitted Lesley Gore - You Don't Own Me.

about 16 hours ago

submitted Hare (2) - Where's My Money?.

9 days ago

submitted Unknown Artist - The Whale Who Wanted To Sing At The Met.

12 days ago

submitted Various - Robin Hood.

13 days ago

submitted Various - Meanwhile...Some Music For Your Listening Pleasure!.

13 days ago

submitted Ian Wheatley - Special Delivery.

17 days ago

submitted Various - Mutant Jazz.

about 1 month ago

posted a comment on PJ Harvey - Let England Shake.

about 1 month ago

This came out almost a decade ago, and wasn't being constantly pressed since initial release, as far as I can tell. Why would you expect it to still be prevalent now? It's long left the realm of readily accessible and entered collectibility. Next time ...

See full review

submitted Trans-X - Vivre Sur Vidéo / Living On Video.

about 1 month ago

submitted Sonia Collymore - What You See Is What You Get (WYSIWYG).

4 months ago

posted a comment on Paul Zaza & Carl Zittrer - Prom Night (Original Soundtrack From Motion Picture).

4 months ago

Values based on latest sales before being removed from the marketplace, in Canadian dollars ($CAD):

Minimum Value:
$192.27 CAD

Median Value:
$260.93 CAD

Maximum Value:
$329.60 CAD

submitted D.J. Boogie* - Ghetto Booty House.

4 months ago

submitted No Artist - Music Effects Vol. II.

5 months ago

posted a comment on Moloko - I Am Not A Doctor .

8 months ago

Unless you are the type to be so anal about a couple quiet pops/clicks at the very end of Pretty Bridges (which is just a low sustained tone winding down) you can buy without fear. It's such a small flaw (looks like a dimple large enough to hold a grain ...

See full review

posted a comment on Earl Ferns.

8 months ago

The Extreme Jadoo mix tape he put out n the late 90s was an absolute classic! Bhangra, bollywood and hip hop mashups before mashups were hip! I would love to see that appear here in the database and have the chance to purchase a copy!

submitted Jungle P.H.D. - Jungle Journey Part 2.

8 months ago

posted a comment on Underworld - Drift Series 1 - Sampler Edition.

8 months ago

We just received the Rebel Tech Version of S T A R in our inboxes today and I'm rather disappointed to see it appear here, as the original version built on Lenny Penne was far superior in my opinion. I much would have preferred it to appear on the vinyl ...

See full review

submitted Lordez - I Feel The Beat.

9 months ago

submitted Spiritual Nations Feat: Zhana* - Do You Wanna Ride (Remix).

9 months ago

submitted Signs Of The Zodiac - Virgo.

9 months ago

submitted Signs Of The Zodiac - Cancer.

9 months ago

submitted Signs Of The Zodiac - Scorpio.

9 months ago

submitted Signs Of The Zodiac - Sagittarius.

9 months ago

submitted Signs Of The Zodiac - Pisces.

9 months ago

submitted Signs Of The Zodiac - Capricorn.

9 months ago

submitted Chick Corea / Various - Catapult / Korg M1 Super Sequence Competition Winners.

10 months ago

submitted Bill Diel - Nothing But Love.

10 months ago

submitted Barbie (10) - Spectacle Sur Scené Superstar.

10 months ago

submitted Loose Ends - Hangin' On A String (Contemplating).

10 months ago

submitted Gaetano Parisio - Advanced Techno Research 2/10.

10 months ago

posted a comment on Japanese Telecom - Virtual Geisha.

10 months ago

I'm looking for Record 2 (sides C / D) and a picture sleeve. if you have both or either of these, please get in touch. :)

submitted Unknown Artist - Custom Recorded.

10 months ago

submitted Neneh Cherry - Kisses On The Wind.

11 months ago

submitted Logic - The Final Frontier / The Warning.

11 months ago

submitted Dr. Alban - No Coke.

12 months ago

posted a comment on Luboš Fišer - Valerie A Týden Divů (Valerie And Her Week Of Wonders).

12 months ago

No surprise that Broadcast's Valerie (a song based on this film) interpolates the recurring melody from this soundtrack.

submitted Various - Bulgaria.

12 months ago

submitted Various - Mickey Mouse Disco.

about 1 year ago

submitted Poltergeist - Vicious Circles.

about 1 year ago

submitted Unknown Artist - Ali Baba & The 40 Thieves / The Enchanted Donkey.

about 1 year ago

submitted Yello - Hands On Yello.

about 1 year ago

submitted Felix Kubin - TXRF.

about 1 year ago

submitted Various - WMC 2004 - Black Hole Sampler.

about 1 year ago

submitted Various - Yukon Sampler 2002.

about 1 year ago

submitted Thieves Like Us - Thieves Like Us.

about 1 year ago

submitted Three - Hallucination Limited Presents: Three : Hallucienda.

about 1 year ago

submitted Lesley Gore - I'll Cry If I Want To.

about 1 year ago

submitted Camerata (5) - Camerata.

about 1 year ago

posted a comment on Broadcast - Tender Buttons.

about 1 year ago

I doubt it was a bad pressing, it's more likely that he wants to ensure the 3-figure investment he made into his original copy retains its value and continues to increase.

Nice try, but this reissue sounds absolutely sublime to my ears, Warp did a ...

See full review

posted a comment on Mysterious - You Gave Me Love.

about 1 year ago

I was not surprised to find the ricochet and hiccup sounds used in Bedrock & KYO's For What You Dream Of on this release, since A1 sounded like it would fit right into a Sasha mix from the '91 era. I'm sure that he must have had this kicking about, and ...

See full review