Oᑎ ᑭᒪᗩᑎET EᗩᖇTᕼ . . .
Joined on October 2, 2016
Releases
Releases Rated 2,892
Rating Average 4.40
Marketplace
No seller rating
Buyer rating:
100.0% 2
Contributor Stats
Rank Points 8,719
Average Vote 4.08
Votes Received 873
Last 10 Day Average 5.00
Last 10 Day Votes Received 4
Groups
Profile
«» »« ➤ ➢ ➜ ⬅︎ ℗ & © ℗+© ® ∙ • ◦ ™ ℠ ℅ ½ ⅓ ¼ ¾ ⅔ ⅕ ⅖ ⅗ ⅘ ⅙ ⅚ ⅛ ⅜ ⅝ ⅞ ℃ ℉ ³ ² ¢ ° º
~ ⁓ ☺ ☻ ☹ ☮ ☠ ☂ ✾ ✿ ❀ ❁ ❂ ⨀ ☼ ♥ ❤ ♦ ❖ ♅ ✠ ☤ ☥ ☧ ☨ ☩ ☫ ☬ ☭ ☽ ☾ ✙ ✚ ✛ ✜ ✞ ✟ † ⊹ × ‡ ♁ ♆⚕️
☯ ✽ ✡ ✢ ✣ ✤ ✥ ✦ ✧ ✩ ✪ ✫ ✬ ✭ ✮ ✯ ✰ ✱ ✲ ✳ ✴ ✵ ✶ ✷ ✸ ✹ ✺ ✻ ✼ ✽ ❃ ❄ ❅ ❆ ❇ ❈ ❉ ❊ ❋ ⌖
⇆ ← ↑ → ↓ ↘︎ ¦ | \ ± ≠ – × ÷ ≈ ≤ ≥ № ▷◁ ∇ ◊ ∆ Λ ⁂ ♩ ♪ ♫ ♬ ♭ ♮ ♯ 𝄢 A₁ B₁ C₁ D₁ ‰ ∞ € £ ¿ ¡
1̶2̶3̶4̶5̶6̶7̶8̶9̶0̶ a̶b̶c̶d̶e̶f̶g̶h̶i̶j̶k̶l̶m̶n̶o̶p̶q̶r̶s̶t̶u̶v̶w̶x̶y̶z̶ ⁽ ⁾ ⁿ ⁼ ⁺ ⁻ ⁰ ¹ ² ³ ⁴ ⁵ ⁶ ⁷ ⁸ ⁹ ₀ ₁ ₂ ₃ ₄ ₅ ₆ ₇ ₈ ₉ ₍ ₎ ₓ ₌ ₊ ₋ ⌘ ⌥
⓪①②③④⑤⑥⑦⑧⑨⑩⑪⑫⑬⑭⑮⑯⑰⑱⑲⑳㉑㉒㉓㉔㉕㉖㉗㉘㉙㉚㉛㉜㉝㉞㉟㊱㊲㊳
㊴㊵㊶㊷㊸㊹㊺㊻㊼㊽㊾㊿ ⒶⒷⒸⒹⒺⒻⒼⒽⒾⒿⓀⓁⓂⓃⓄⓅⓆⓇⓈⓉⓊⓋⓌⓍⓎⓏ
ᗩ ᗷ ᑕ ᗪ E ᖴ G ᕼ I ᒍ K ᒪ ᗰ ᑎ O ᑭ ᑫ ᖇ ᔕ T ᑌ ᐯ ᗯ ᙭ Ч Ζ 乙
🄰 🄱 🄲 🄳 🄴 🄵 🄶 🄷 🄸 🄹 🄺 🄻 🄼 🄽 🄾 🄿 🅀 🅁 🅂 🅃 🅄 🅅 🅆 🅇 🅈 🅉
B.I.E.M. STEMRA bel Biem BIEM SACEM SACD SDRM SGDL n©b [Suffix cat.# - boxed separately]
Α Β Γ Δ Ε Ζ Η Θ Ι Κ Λ Μ Ν Ξ Ο Π Ρ Σ Τ Υ Φ Χ Ψ Ω Ά Έ Ή Ί Ό Ύ Ώ Ϊ Ϋ
α β γ δ ε ζ η θ ι κ λ μ ν ξ ο π ρ ς σ τ υ φ χ ψ ω ά έ ή ί ό ύ ώ ϊ ϋ ΐ ΰ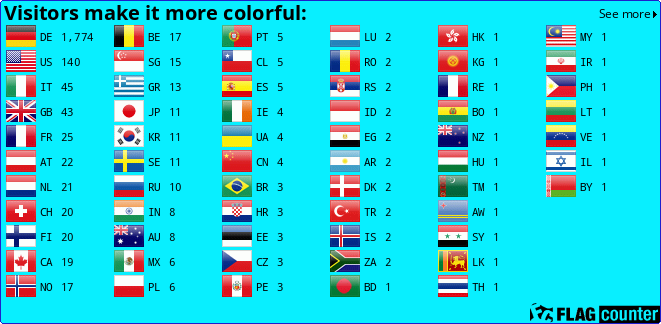 ᗰY ᑭEᖇᔕOᑎᗩᒪ ᖴIᖇᔕT ᑭᑌᖇᑕᕼᗩᔕEᔕ (by format):
ᒪᑭ:
T. Rex - Electric Warrior
(1971)
7":
Suzi Quatro - Can The Can
(1973)
ᗰᑕ:
Elvis Presley - Seine 40 Grössten Hits
(1975)
12":
Chemise - She Can't Love You
(1987)
ᑕᗪ:
Eurythmics - Greatest Hits
(1991)
ᑕᗪ Maxi:
Faithless - Insomnia
(1995)
ᗪᐯᗪ:
Peter Gabriel - Growing Up Live
(2003)
- Located static BAOI above the variant sets in line with
Diognes_The_Fox
on discogs best practice proposals
"The 'best' way to sort Matrix and SID Code variations"
.
Matrix in one description field as per
RSG §5.2.c
.
- Extra space character from runout fields amended in line with
RSG §5.2.c
:
"There can be large gaps between different sections of a releases run out inscriptions. Please only use a space to denote such gaps."
- From the Discogs Database Guidelines
RSG §5.2.d
:
"A release with SID codes can't be made before September 1994.
If the date cannot be established with a citation or an adequate explanation, the date should be left blank."
ᗰᗩᔕTEᖇᖇEᒪEᗩᔕE:
•
To Create Masterreleases
Helpful Discogslinks:
•
Submission Guidelines
•
STRIKE TROUGH letters/digits
•
How Can I Format Text
•
Credits-List
•
Spanish terms and their meanings
•
Multi disc releases
(such as:
The Cure - Greatest Hits
)
•
LP restauration-tips
• This Label Copy information is the subject of Copyright protection.
• CrO₂ Chromium dioxide stereo cassette EQ 120 µSec
• Track durations are not printed on the release - entered times are taken from CD-player per
RSG §12.6.4.
• Extended runout information to notes (as per forum instructions) example:
»runouts are etched, except for "MASTERDISK" which is stamped«
.
•
abbreviations for instruments
+ older/former ones:
(ac) accordion, (cb) cowbell, (ch) cowhorn, (co) cornet, (dr) drums, (tp) trumpet, (vo) vocal
Please update also the description of matrix and mastering SID code if they fit with your copy.
Edit Release: Variants are manufacturing variations of the same disc, not as a packaged set. Removing the following duplicates per
forums quintessence
:
CD1 Variant 10 (duplicate of CD1 Variant 3)
CD2 Variant 12 (duplicate of CD2 Variant 6)
Please adjust your notes accordingly if you keep track of your variants.
• Label codes since 05/1976+ up to 01/2017
• SID codes since 01/1994+
• bass clef 𝄢 from 1981+ (usually embossed on B-side)
• PMDC, Germany since 01/1993 till 03/1999
• Universal M & L, Germany since 1999+
• Sonopress Arvato since 2004+
• EDC since 2005+
• IFPI code with AAH = Mediamotion Repress
• According to the last changes in the Sony Music and Sony DADC profiles:
only "S0100xxxxxx-yyzz" and "S0000xxxxxx-yyzz" matrix numbers may be entered as sequential numbers in the LCCN.
• The Shorepak sleeve was made by Shorewood Packaging Co. Ltd., England. (Made By – Shorewood Packaging Co. Ltd.)
My personal ratings result from different reasons:
✭✭✭✭✭ - This is for those outstanding releases, which are unique or from genius make.
✭✭✭✭ - Just great music from great artists.
✭✭✭ - Music with medium to higher standard, but without the "ᗯOᗯ"-factor.
✭✭ - Trivial music, only small musical skill, not worth to hear it twice.
✭ - Music? (better: noises) from absolutely talent free people (like
Die Ärzte
). I won't use the word "artist" in those cases. It's probably not for me!
😃 😄 😅 😆 😊 😁 😀 😂 😎 😇 😏 🤣 🤩 🤪 🥳 🤠 🤡 🤑 🤓 🤬 😗 😚 😘 😙 😉 🤗 😍 🥰 🤤 😋
😛 😜 😝 😶 🙃 😐 😑 🤔 🤨 🧐 🤭 🤫 😯 🤐 😌 😖 😕 😳 😔 🤥 🥴 😮 😲 🤯 😩 😫 😴 😵 😦 😞
😪 😥 😟 😢 😭 🤢 🤮 😷 🤒 🤕 🥵 🥶 🥺 😬 😓 😰 😨 😱 😒 😠 😡 😤 😣 😧 🤖 😈 👿 🙈 🙉 🙊
⭐️ 🌟 👍🏼 👎🏼 👌🏼 👋🏼​ 🤝 👏🏼 ​🙌🏼 🤘🏼 🤟🏼 🤙🏼 🖖🏼 🤞🏼 ✋🏼 🤚🏼 🖐🏼 🤲🏼 👐🏼 👊🏼​ ​🤜🏼 🤛🏼 ✌🏼 ​✊🏼​​​​​​ 👉🏼 ​​​​👈🏼 ✍🏼​ 👂🏼​ 👃🏼 ​🦶🏼
🤦 🤷 🙅 🙆 🙋 🙍 🙎 🙇 🙏🏼 👯 💃 🕺 🤳 💇 💈 💆 🧖 🧘 👰 👶🏻 🧒 👦 👧 👩 👨 🧔🧑🏻‍🦳 🧓🏻 👴🏻 👵🏻
👤 👥 🤰 🤱 👪 👫 👬 👭 👲 👳 🧕 👱 👸 🤴 🎅 🤶 🤵 👮 👷 💁 💂 🕴 🕵 👼🏻​ 👻 🧙 🧚 🧜 🧝 🧞
🧛 🧟 🦸🏽 ​🦸🏻‍♂️ ​🦸🏼‍♂️ 🧛🏻‍♂️​ 🦹🏻‍♂️ 👽 👾 🛸 🤖 👹 👺 💀 ☠️ 🧠 🦴 👁 👀 👄 💋 🦷 💭 💬 🗨 🗯 🗣 💨​ 💦 💧
💤 💥 🔥 💡 🕯️ 💯 🔰 🕉 📦 🎁 🏆 🏅 🥇 🥈 🥉 🏁 🎵 🎶 🎷 🎸 🎹 🎺 🎻 🎼 🎙 🎤 🎧 🔊 🔌​ 🗑️​
🔍 👓 🕶️ 🔱 ⚜️ 💿 📀 💻 ⏳ ⌛ 🎈 🐾 👣 🎄 ​🎅🏼​ 🖇 ⚓ ✨ 💫 🌞 ❗ ❓ 🔞 🚫 ⭕ ⛔ 🤍 🔔 ⚽ ​🌐
❕ ❔ ‼️ ⁉️ 💩 🔍 ​​🚧 ​🪂​ ⏰ ​⏱️​ 🔪 ​🍻 ​🥂 ​🍾 ​☕ ​🥃 🦀​​ 🍌​ 🐞 🍀​ 🍁 ​💐​ 🕷️​ 🕸️​ 🐽 🐷​ 🐖 🥚 ​🐣​ 🐝​​
⬇️​ ⬆️​ ➡️ ​⬅️ ​⤴️​ ⤵️ ​🔽 ​🔼 ​▶️​ ◀️ ​⏩ ​⏪ ​⏫ ​⏬ ​✅​ ❎ ​0️⃣ ​1️⃣​ 2️⃣ ​3️⃣ ​4️⃣​ 5️⃣​ 6️⃣​ 7️⃣​ 8️⃣ ​9️⃣ ​🔟​ ⏸️ ​⏏️​ ↘️
👨🏼‍🦳 ​🧑🏼‍🦳​ 💁🏼 ​🤦🏻‍♂️ ​🤦🏻 ​🤷🏻‍♂️ ​🤷🏼​ 👨🏼‍⚕️​ 🧑🏻‍⚕️ ​👨🏼‍💻 ​🧑🏻‍💻​ 🧑🏼‍💻 ​🧑🏽‍💻 ​👨🏻‍💻 ​🕵🏼‍♂️​ ​🦸🏽 ​🦸🏻‍♂️ ​🦸🏼‍♂️ 🧛🏻‍♂️​ 🦹🏻‍♂️​​ 💃🏻 🕺🏽 🚲 🚴🏼 🤏🏼​​​ 👆🏼​ 🖕🏼​ 👇🏼​ ☝🏼​​​​​​​​ 💪🏼
💰​ 🖋️ ​✂️​​ 🔐​ 🔨​ 🪓​ ⛏️​ 🗡️ ​⚔️​ 🔫​ 🔩 ​⚙️ ​🧻​ 🧽​ 🧯​ ⛓️​
Recent Activity