Stockholm, Sweden
Joined on May 12, 2007
Releases
Releases Rated 1,792
Rating Average 3.22
Marketplace
Contributor Stats
Rank Points 143,683
Average Vote 4.03
Votes Received 11,706
Last 10 Day Average 4.00
Last 10 Day Votes Received 3
Groups
Profile
Long time record collector with a wide spectrum of music taste:
- Jamaican music from 1960-1971
- Eurodisco from 1993-1998
- Black metal, punk and hardcore
- Hardstyle, Goa trance, Drum'n'base/Jungle
If you are interesting of buying something from my collection that isn't up for sale, please contact me
I'm currently selling records with Estonian music from Canada, Sweden and USSR (pre 1991).
Had a couple of years as ska/rocksteady/reggae DJ in Sweden. Did the web community
Ska Wars
, focused on Swedish ska and reggae music between 1999-2007. Were one of the organizers behind the punk/hardcore/ska festival
Augustibuller
(RIP).
Current Discogs goals:
- Clean all invalid artists at
https://www.discogs.com/forum/thread/805010
- Help my neighbour adding his record collection
Statistics since 2012-12-01: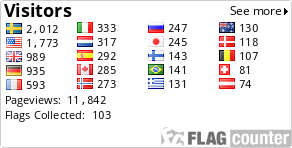 Find out more
Recent Activity
Action
Description

submitted Sture Ström - Kejsarens Nya Kläder.

about 1 month ago

submitted Various - Songs And Stories Publishing.

about 1 month ago

submitted Ranheim Musikkforening - Ranheim Musikkforening 70 År.

about 1 month ago

submitted Max & Gunnar - Gamla Tiders Väckelse.

about 1 month ago

submitted Bernhard Sönnerstedt - Sjunger Taube.

about 1 month ago

submitted Various - Orda-längd Över Järnamålet (Järnamål Inspelningar I Urval).

about 1 month ago

submitted Bosse Och Anita Andersson* - Under Vandringen Här.

about 1 month ago

submitted Einar Ekberg - Dårens Tal.

about 1 month ago

submitted J. S. Bach*, The Basle Chamber Orchestra*, Paul Sacher - Brandenburg Concerto No. 3.

about 1 month ago

submitted Donald Bergagård - Min Kung Och Jag.

about 1 month ago

submitted Chor* Und Orchester Der Niederländischen Oper*, Arrigo Guarnieri - Opernchöre Nr. 4.

about 1 month ago

submitted Rancho Das Lavradeiras De Carreço* - Unknown Title.

about 1 month ago

submitted Julius Patzak, Orchester Hans Totzauer - Altwiener Lieder.

about 1 month ago

submitted Jarl Kulle Och Berit Carlberg - Varsågod! Philips-Sonora Bjuder Premiärpubliken På En Smakbit Ur LP-skivan Med Glada Änkan.

about 1 month ago

submitted Various - Perfekt Zum Tanzen Nr. 6.

about 1 month ago

submitted Osvald Helmuth M. Walther Bødkers Orkester - Aldrig / Så Holder Det Op Af Sig Selv.

about 1 month ago

submitted United (6) - United.

3 months ago

submitted Wolfgang Amadeus Mozart - Wolfgang Schneiderhan · Berliner Philharmoniker - Violinkonzerte Nr. 2 D-Dur KV 211 & Nr. 3 G-Dur KV 216.

7 months ago

submitted Benatzky*, Anneliese Rothenberger, Peter Minnich* - Värdshuset Vita Hästen (Utdrag).

7 months ago

submitted Franz Schubert / Philharmonia Orchestra, London* Dirigent: Otto Klemperer - Den Ofullbordade (Symfoni Nr. 8) Och Symfoni Nr. 5 Av Franz Schubert.

7 months ago

submitted Ravel* - Debussy* - Bolero - La Mer - La Valse - Prélude À L'Après-Midi D'Un Faune.

7 months ago

submitted Kör* Och Orkester Från The Royal Opera House, Covent Garden, London* Dirigent: Lamberto Gardelli - Italienska Operakörer (Fångarnas Kör Ur Nebukadnessar Av Giuseppe Verdi Och Andra Italienska Operakörer)).

7 months ago

submitted Johann Strauss, d.y.* - Willi Boskovsky - Wiens Johann Strauss-Orkester* - An Der Schönen Blauen Donau Och Andra Straussvalser.

7 months ago

submitted Orsa Spelmän - Orsa Spelmän.

7 months ago

submitted Wanda Jackson - Country Gospel.

7 months ago

submitted Frank Barcley His Piano And Rhythm - Evergreens Of 50 Years Vol. 1 - 1905-1915.

8 months ago

submitted Vivaldi* / Albinoni* / Pachelbel*, Wolfgang Schneiderhan, Festival Strings Lucerne, Rudolf Baumgartner - Die Vier Jahreszeiten / Adagio / Kanon & Gigue.

8 months ago

submitted Wolfgang Amadeus Mozart, Christa Ludwig, Elisabeth Schwarzkopf, Hanny Steffek, Walter Berry, Alfredo Kraus, Giuseppe Taddei, Philharmonia Chorus And Orchestra*, Karl Böhm - Cosi Fan Tutte (Grosser Querschnitt In Italienischer Sprache).

8 months ago

submitted Helmut Zacharias And His "Magic Violins"* - Magic Violins.

8 months ago

submitted Benny Goodman - 2 For The Record.

8 months ago

submitted Mme Colette Renard* Och M. Pierre Davoust* - Hermods Franska, Första Årskursen.

8 months ago

submitted Anton Dvořák* / Das Kölner Rundfunk-Sinfonieorchester*, Dean Dixon (2) - Sinfonie Nr. 5, E-Moll, Op. 95 (Aus Der Neuen Welt).

8 months ago

submitted Beethoven* - Paris Conservatoire Orchestra*, Carl Schuricht - Fifth Symphony.

8 months ago

submitted Frédéric Chopin - Stefan Askenase - Walzer.

8 months ago

submitted Georges Bizet - Carmen Jones.

8 months ago

submitted Various - Julefrid Och Julefröjd.

8 months ago

submitted Georges Bizet / Julia Migenes Johnson*, Placido Domingo, Ruggero Raimondi, Faith Esham, Lorin Maazel, Orchestre National De France / Chœur* Et Maîtrise De Radio France - Carmen.

8 months ago

submitted Rudi Schuricke - Du Bist Meine Grosse Liebe / Vor Den Toren Zum Paradies.

8 months ago

submitted Tchaikovsky* / Anatole Fistoulari Conducting The London Symphony Orchestra - Swan Lake Op. 20 - Suite.

8 months ago

submitted Caterina Valente - Caterina Valente Volume 3.

8 months ago

submitted Semprini* With The Melachrino Orchestra - Tchaikovsky Piano Concerto / Grieg Concerto.

8 months ago

submitted Eddie Calvert - Cherry Pink (And Apple Blossom White) / Roses Of Picardy.

8 months ago

submitted The Delta Rhythm Boys - Goin' Home (Negro Spirituals Live).

8 months ago

submitted The Hollywood Bowl Symphony Orchestra Conducted By Carmen Dragon - Adagio From Moonlight Sonata / Swedish Rhapsody.

8 months ago

submitted Sven-Bertil Taube / Lars Forssell / Nestor Marconi* - Tango.

8 months ago

submitted Mme Colette Renard* Och M. Pierre Davoust* - Hermods Franska, Första Årskursen.

8 months ago

submitted G. Verdi* - Ileana Cotrubas · Placido Domingo, Sherrill Milnes, Bayerisches Staatsorchester, Carlos Kleiber - La Traviata Highlights · Querschnitt · Brani Scelti.

8 months ago

submitted Count Basie - Kansas City 5.

8 months ago

submitted Various - Super Hits.

8 months ago

submitted Johannes Brahms, Münchner Symphoniker (2), Alfred Scholz - Konzert Für Klavier Und Orchester Nr. 2, B-Dur, Op. 83.

8 months ago