Stockholm, Sweden
Joined on May 12, 2007
Releases
Releases Rated 1,788
Rating Average 3.22
Marketplace
Seller rating:
100.0% 23
Buyer rating:
88.9% 9
Contributor Stats
Rank Points 85,684
Average Vote 4.03
Votes Received 9,504
Last 10 Day Average 4.17
Last 10 Day Votes Received 12
Long time record collector with a wide spectrum of music taste:
- Jamaican music from 1960-1971
- Eurodisco from 1993-1998
- Black metal, punk and hardcore
- Swedish schlager/pop from 1930-1940
If you are interesting of buying something from my collection that isn't up for sale, please contact me
Had a couple of years as ska/rocksteady/reggae DJ in Sweden. Did the web community
Ska Wars
, focused on Swedish ska and reggae music between 1999-2007. Were one of the organizers behind the punk/hardcore/ska festival
Augustibuller
(RIP).
Current Discogs goals:
- Aiming for 85 000 ranking points in the end of 2018
already accomplished in September 2018
- Aiming for 90 000 ranking points before midsummer 2019
- Aiming for 100 000 ranking points before turning 40 (September 2020)
Statistics since 2012-12-01: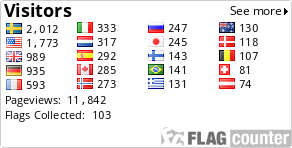 Find out more