Copenhagen, Denmark
Joined on November 28, 2007
Releases
Releases Rated 127
Rating Average 4.46
Marketplace
No seller rating
Buyer rating:
99.2% 124
Contributor Stats
Rank Points 61,185
Average Vote 4.07
Votes Received 2,761
Last 10 Day Average 4.00
Last 10 Day Votes Received 8
Groups
Profile
Private collector and music enthusiast since 1970.
Buyer conditions
: I normally leave feedback for sellers, but feedback is a mutual thing. If I don't receive feedback from seller, I might remove my own feedback again. Concert highlights:
04.03.1973
- Complete, one-hour
Thick As A Brick
performance in
Brøndby Hallen
. Best
Jethro Tull
concert out of six or seven.
01.04.1973
-
Culpeper's Orchard
giving one of their best performances at Egegårdsskolen a sunday evening for a small audience after a school theater show.
01.07.1973
-
The Old Man & The Sea
was scheduled at 01:30, but programme was running late at the first
Roskilde Festival
s, thus they were on stage while an orange rising sun scattered a very heavy morning mist through which You couldn't see the stage. Beautiful.
13.11.1977
-
Yes
at
Falkoner Teatret
. Light and sound in master class.
13.06.1981
-
Pink Floyd
performing The Wall at
Earls Court
. Need I say more?
01.07.1983
-
Unknown Gender
giving their powerful punk-funk at
Roskilde Festival
.
06.09.1987
-
Eva Dahlgren
with family and friends on stage in
Jazzhus Montmartre
.
03.07.1993
-
Miranda Sex Garden
at
Roskilde Festival
.
24.10.1993
- On holiday in Amsterdam I - by pure chance - stumbled over a gig with my favourite Finnish trio on a small stage in an abandoned industrial complex. Out of ten concerts with
22 Pistepirkko
this must be the winner.
03.07.1999
- Out of my five live experiences with
The Residents
this one at
Roskilde Festival
is the winner. Documented on
Wormwood Live Roskilde Festival Denmark 1999-07-03
, - nothing compared to being there though.
29.06.2003
- After a disappointing
Roskilde Festival
with very few highlights,
Massive Attack
made it worth while early sunday evening at the Arena stage.
02.07.2006
-
Roger Waters
performing The Dark Side of the Moon at
Roskilde Festival
. Best sound ever on the Canopy.
08.07.2007
-
Akron/Family
at the Astoria stage on
Roskilde Festival
- what started out as an experimental noise gig by three pale guys from New York seemlessly evolved into a gigantic party with a group of drummers from Ghana joined by their dancers, - and audience participating on percussion.
22.03.2008
- Another great show with
22 Pistepirkko
at
Det Bruunske Pakhus
in Fredericia.
13.04.2010
-
The Fabulous Thunderbirds
giving a very tight set in
Amager Bio
.
02.05.2012
- The most homogeneous out of 4 gigs with Finnish / French duo
The Dø
was at Beta, - a small venue next to
Amager Bio
.
05.07.2012
-
The Barons of Tang
for full power at the Pavillion stage on
Roskilde Festival
- see it
here
.
15.02.2014
-
Connan Mockasin
at
Bremen, Copenhagen
. One of the most intimate and intense concerts I believe I have been to.
02.06.2018
-
Young Flowers
reunion in a small cinema, Svaneke, Bornholm. Nothing old school about this, as fresh and relevant as in 1968.
04.07.2019
-
Robert Plant And The Sensational Space Shifters
giving a smooth and seamless concert at the Arena stage on
Roskilde Festival
.
02.07.2022
- A compelling show by
St. Vincent
at Orange stage on
Roskilde Festival
.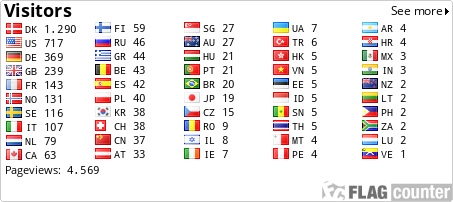 Flag counter enabled 18.10.2014.
Recent Activity