United States
Joined on April 3, 2008
Releases
Releases Rated 1
Rating Average 5.00
Marketplace
Contributor Stats
Rank Points 12,567
Average Vote 3.81
Votes Received 348
Last 10 Day Average 4.00
Last 10 Day Votes Received 1
Groups
Profile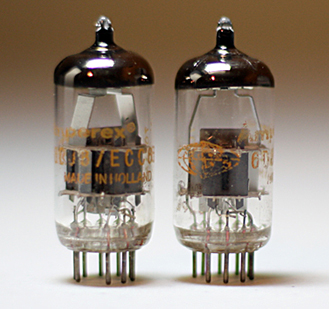 Hello and welcome to my Discogs page! I am a 40-something music enthusiast who has been collecting CDs (and some vinyl) since the mid-80s. My primary focus is on 80s synthpop, but I collect a bit of everything. These days I'm just as likely to be listening to Erasure as Velvet Underground.
***
I also consider myself an audiophile and have spent many years attempting to build the "perfect" system, which, as any enthusiast knows, is a journey, not a destination. However, with the recent addition of two Balanced Audio Technology (BAT) tube amps (two
VK-60s
in 120-watt monoblock mode), the journey just got
a lot
better! For this reason I have no interest in MP3 files or poorly recorded material. It's a shame that many new releases have become victims of the
Loudness War
. Personally, even if I like a certain piece of music, I won't listen to it if it's been recorded poorly. It's like nails on a chalkboard!
***
None of the items in my collection are for sale, nor do I make CDR/MP3/WAV copies of anything.
I've spent a lot of time and money to acquire the items in my collection and prefer everyone else track down their own items. Nothing compares to the thrill of finally finding something you've been diligently searching out for years! Discogs, eBay, and Amazon are all great sources of rare music.
***
Some thoughts on Discogs:
• I don't think an entry is complete until it has cover art and track timings. Many of the edits I make on entries entail adding track times. I understand it can be difficult to enter these for vinyl releases, but I will never understand why people don't enter them for digital media. If times aren't printed on the label, just pop it in your CD player/CD-ROM drive and list the track times that come up. Some people argue that CD players all display different times (which is not true) so there's no point in entering times that were gotten via CD player. This is ridiculous. Even if the track times do vary player to player, it's only by one second in either direction. I'd rather have a track time that's (potentially) one second off than no track time at all.
I only add/edit entries for items that I actually own and have in my hand. All of the track times I list are taken directly from the information my CD-ROM drive gives me about the track times of a release. These are the
actual
track times as they were recorded with no padding or truncation. These times can often differ from what the label states by few seconds. In other cases (such as releases from
Razormaid Records
), they can differ by several minutes. I prefer to know the actual times rather than the stated times which is why all the entries I add contain timings taken from the actual discs.
Why are actual track times important? Many of us who collect dance music enjoy finding different versions/mixes of various tracks. However, record companies tend to be lazy and often release multiple versions of a song without denoting the mix names.
ZTT
is famous for this. There are over 30 versions of the Frankie Goes To Hollywood song "Relax" clocking in anywhere from 3:56 to 16:50. In a perfect world, any time a variation of the original album track was used, the record company would denote the mix. But they don't. And so the only way collectors can divine which version of a song appears on what disc is to look at the track time. In Frankie's case, 3:56 means it's probably the album version. 4:34 means it's probably the 'From Soft to Hard' version. 7:24 means it's probably the New York version. And 16:23 means it's likely the full Sex Mix. Unfortunately many releases (mostly compilations) don't always specify which mix they used. The label just says "Relax" and the listener has to figure out what mix was used. That's why I think accurate tracks times are so important.
• When I first started entering releases here on Discogs, I was constantly barraged with snippy comments about how I wasn't doing something correctly. It almost made me want to stop contributing because no one seemed to appreciate all the work I was putting into this project. I'd enter 50 releases correctly without a word, and then I use a '.' instead of a '-' in a listing and I'd get a terse comment about how I screwed up. Give me a break! I understand the need for conformity, but it doesn't take much to be nice with your comments. A 'please' or 'thanks' goes a long way towards encouraging a person to continue their contributions. That being said, there are a lot of lazy people who contribute that do so without reading
any
of the submission guidelines. Please do so before you start contributing! It will save you a lot of time.
***
A very, VERY truncated list of favorite artists:
10,000 Maniacs
,
ABC
,
AC/DC
,
Act
,
a-ha
,
Marc Almond
,
Alphaville
,
Tori Amos
,
Anything Box
,
Army Of Lovers
,
The Art Of Noise
,
Aztec Camera
,
Beat, The (2)
, [Invalid Artist],
Berlin
,
Big Audio Dynamite II
, [Invalid Artist],
Björk
,
Blancmange
, [Invalid Artist],
Book Of Love
,
David Bowie
,
Boxcar
,
Claudia Brücken
, [Invalid Artist],
Kate Bush
,
Cabaret Voltaire
,
Camouflage
,
Vanessa Carlton
,
Neko Case
,
Celebrate The Nun
,
Tracy Chapman
,
Cheap Trick
,
Chinese Detectives
,
Chromatics
,
Eric Clapton
,
Clash, The
,
Client
,
Consolidated
,
Cowboy Junkies
, [Invalid Artist], [Invalid Artist],
Data (2)
,
Dead Or Alive
,
Depeche Mode
,
Dido
,
Die Warzau
,
Bob Dylan
,
Electronic
,
Elkland
,
Enigma
,
Erasure
,
Eurythmics
,
Falco
,
Bryan Ferry
,
Fine Young Cannibals
,
Frankie Goes To Hollywood
,
Frazier Chorus
,
Frente
,
Front 242
,
Front Line Assembly
,
Peter Gabriel
,
Girl Talk
,
Sophie B. Hawkins
,
Colin Hay
,
Imogen Heap
,
Heaven 17
,
Human League, The
,
Hurts
, [Invalid Artist],
Natalie Imbruglia
,
Information Society
,
Japan
,
Elton John
, [Invalid Artist],
Kesha
,
Killers, The
,
KLF, The
,
Kon Kan
,
Kraftwerk
,
La Roux
,
Led Zeppelin
,
Charlotte Martin
,
MC 900 Ft Jesus With DJ Zero
,
Erin McKeown
,
Men Without Hats
,
Natalie Merchant
,
MGMT
,
Milla
,
Milli Vanilli
,
Ministry
,
Alison Moyet
,
My Life With The Thrill Kill Kult
,
Leona Naess
,
New Order
, [Invalid Artist],
Nine Inch Nails
,
Nitzer Ebb
,
Sinéad O'Connor
,
One Dove
,
Orchestral Manoeuvres In The Dark
,
Pet Shop Boys
, [Invalid Artist],
Prince
,
Propaganda
,
Public Image Limited
,
Lou Reed
,
Re-Flex (2)
,
Revolting Cocks
,
Rolling Stones, The
,
Roxy Music
,
Scritti Politti
,
Secession
,
Seona Dancing
,
Severed Heads
,
Shakespear's Sister
,
Single Gun Theory
,
Siouxsie & The Banshees
,
Skinny Puppy
, [Invalid Artist],
Jill Sobule
,
Soft Cell
,
Sparks
,
Regina Spektor
,
Cat Stevens
,
Tears For Fears
,
Tegan and Sara
,
The The
,
Thompson Twins
,
Suzanne Vega
, [Invalid Artist],
Vicious Pink
,
Yazoo
,
Yello
Some Favorite Labels:
Art Of Mix
,
Factory
,
Razormaid Records
,
Wax Trax! Records
,
ZTT
***
My last.fm profile:
HERE
Recent Activity