Poznan, POLAND
Joined on April 18, 2009
Releases
Releases Rated 14,939
Rating Average 3.56
Marketplace
Contributor Stats
Groups
DEFEND is a '2 friends' crew born in Poznan in the beginnings of 2004 (members: Piro and me) specialized in hardest beatz of undergroud hardcore scene. Had an opportunity to meet and play at gigs with such foreign hardcore producers and djs like: The Speed Freak (DE), Radium (FR), Leviathan (NL), Bonehead (NL), Gabba Front Berlin (DE), La Peste (FR), Noisekick (NL), Detest (DE), Matt Green (UK), Tymon (AU), Neurocore (FR), Collision (NL), Mutante (CA), Stormtrooper (DE), The Massacre (CH), Stefan ZMK (NL), The Sickest Squad (IT), Moleculez (DE), Nevermind (US), Sam-C (NL), Igoa (DE), Tense (US), Chosen Few (NL), eMeL (NL), Jensen (DE), Suburbass (FR), Capcom (CH), Vague Entity (DE), Doe Doe (CA), Rob Gsh (DE), Junkie Cut (UK), Crap Killa (DE), Psychopath (DE), Saint Pure Shit (ES), Lamagra (DE) and almost all hardcore djs and producers from Poland.
GAL - Hardcore Fanatic since 1993. Infected by oldschool sounds from T99, M.N.O, Cubic 22, Holy Noise, Apotheosis that turned later into artcore/terrorcore/speedcore tunes. First steps of letting people to listen to music he played was due to 1999 at open air parties.
Former member of groups like: Unholy Trinity, K.I.D., Terrorcore.pl, and D.E.F.
For 15 years he's been the real vinyl fetishist in spite of he had played at first gigs with Amiga 1200s and later PCs.
Besides of this, he's an author of inter alia 51 vinyl mix series named: THIS IS WHAT WE CALL ... (acidcore, artcore, breakbeat hardcore, darkcore, deathcore, doomcore, frenchcore, gabber, hardcore, hardcore breakz, industrial hc, newstyle, oldschool techno, speedcore, terrorcore, trancecore, uk hardcore).
MIXCLOUD -
http://www.mixcloud.com/gal-defend/
PIRO - has played for 15 years (2004), inspiring his semi-artism with metal hardcore and electronics of 90's. Tracing developement of music's kinds, he creates better and better view of his mixes, focusing finally on industrial hardcore style. The characteristic feature of his playing is that ... he always fucks something up. Except of that, he places in people's minds the fantasy tale which he ends with double pace and cigarette :) In hardcore techno scene he has played everything from classic gabber and artcore, through terrorcore and speedcore. Meanwhile even uk hardcore and frenchcore, ending on industrial and darkcore. He coorganised such party cycles like: Chant of Hardcore and Independent Sound or single shots like 'famous' The Hole. Used to collaborate with legendary DHC Meinhof (
http://www.discogs.com/artist/60167-DHC-Meinhof).
Since always has been partying with Gal under "Defend" name, sharing the scene with many foreign and Polish artists.
If You are interested in buying something from my collection, place me an offer.
Selling only to European Union by PayPal.
POLAND (koszt wysyłki):
1 vinyl - 12 pln
2-3 vinyls - 16 pln
4-8 vinyls - 20 pln
REST OF EUROPE UNION (shipping cost):
1-10 vinyls - 16 euro (only via TNT)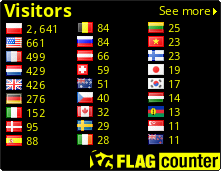 Recent Activity

posted a comment on Vader - De Profundis.

8 months ago

Everybody is sorry. Good luck next time Mate. Frankly speaking, next RM version will not appear soon.

posted a comment

that has since been deleted.

10 months ago

posted a comment

that has since been deleted.

10 months ago

posted a comment

that has since been deleted.

10 months ago

posted a comment

that has since been deleted.

10 months ago

posted a comment

that has since been deleted.

10 months ago

posted a comment

that has since been deleted.

10 months ago

posted a comment

that has since been deleted.

10 months ago

posted a comment

that has since been deleted.

10 months ago

posted a comment

that has since been deleted.

10 months ago

posted a comment

that has since been deleted.

10 months ago

posted a comment

that has since been deleted.

10 months ago

posted a comment

that has since been deleted.

10 months ago

posted a comment

that has since been deleted.

10 months ago

posted a comment

that has since been deleted.

10 months ago

posted a comment

that has since been deleted.

10 months ago

posted a comment

that has since been deleted.

10 months ago

posted a comment

that has since been deleted.

10 months ago

posted a comment

that has since been deleted.

10 months ago

posted a comment

that has since been deleted.

10 months ago

posted a comment

that has since been deleted.

10 months ago

posted a comment

that has since been deleted.

10 months ago

posted a comment

that has since been deleted.

10 months ago

posted a comment

that has since been deleted.

10 months ago

posted a comment

that has since been deleted.

10 months ago

posted a comment

that has since been deleted.

10 months ago

posted a comment

that has since been deleted.

12 months ago

posted a comment

that has since been deleted.

12 months ago

posted a comment

that has since been deleted.

12 months ago

posted a comment

that has since been deleted.

12 months ago

posted a comment

that has since been deleted.

12 months ago

posted a comment

that has since been deleted.

12 months ago

posted a comment

that has since been deleted.

12 months ago

posted a comment

that has since been deleted.

12 months ago

posted a comment

that has since been deleted.

12 months ago

posted a comment

that has since been deleted.

12 months ago

posted a comment

that has since been deleted.

12 months ago

posted a comment

that has since been deleted.

12 months ago

posted a comment

that has since been deleted.

12 months ago

posted a comment

that has since been deleted.

12 months ago

posted a comment

that has since been deleted.

12 months ago

posted a comment

that has since been deleted.

12 months ago

posted a comment

that has since been deleted.

12 months ago

posted a comment

that has since been deleted.

about 1 year ago

posted a comment

that has since been deleted.

about 1 year ago

posted a comment

that has since been deleted.

about 1 year ago

posted a comment

that has since been deleted.

about 1 year ago

posted a comment

that has since been deleted.

about 1 year ago

posted a comment

that has since been deleted.

about 1 year ago

posted a comment

that has since been deleted.

about 1 year ago