washington, d.c.
Joined on October 7, 2006
Releases
Releases Rated 551
Rating Average 3.83
Marketplace
No seller rating
No buyer rating
Contributor Stats
Rank Points 16,719
Average Vote 3.96
Votes Received 1,864
Last 10 Day Average N/A
Last 10 Day Votes Received 0
Groups
Profile
Sensual crooner, impressionistic dancer, and lead statistician for Washington, D.C.-based synth-buskers
Boole
& its bastard uncle,
The Apologizers
.
I've fiddled relentlessly with all manner of audio playback equipment since I was old enough to crawl, and have put together a not-too shabby musicus-vitae as a play-pusher over the years...
[1990-1994]
WXSU (formerly WSUR), Salisbury University
-- Co-hosted
The Caffeine Show
with
Brad Barkett
, (a.k.a. The White Shadow). This raucous disturbance of the airwaves tended to be utterly unpredicatable, musically, and was chock full of antics on the mic -- creative PSAs, absurd contests, random object giveaways, "hot letters" reading hour, and the like. We were fired and re-hired several times before a "permanent ban"-rule was finally instituted, 'round about the time they were lining things up to ditch their cable roots and go for an FM bid.
[1996-1999] Spun a flurry of guest spots in the greater D.C. / Baltimore area, including appearances at
Hepburn's
(Baltimore),
Circle Bar
(D.C.),
Catacomb
at
The Meeting Place
(D.C.),
Psychoburbia
at
Nick's
(Springfield, Virginia),
The Velvet Lounge
(D.C.),
The Cage
(D.C.),
Bound
at
Bar Nun
(D.C.), and
Club Heaven
(D.C.).
[1999-2000] Co-founded
Rituals
with fellow music-addict
darkwave
, which filled
Club Hell
and later
Aslyum
with a wonderful backdrop of experimental and ambient sounds.
[2000-2001] Co-founded
Z'Ha'Dum
with Sean Y. and Brian S. in early 2000. Brian S. left the organization after the first party, leaving Sean Y. and myself to manage the second as a duo. Brian S. was replaced by
darkwave
for the third and final party. Z'Ha'Dum parties combined DJ sets with live performances and focused primarily on hard trance and rhythmic industrial (the oft-misnomered "power noise") music and were instrumental in putting that latter genre on the map in D.C., and indeed in North America. Our three major parties included
Ant-Zen 2000
,
Hands 2000
, and
Hushush 2001
.
[2000] Spun a well-received guest set at Machinenfest 2000.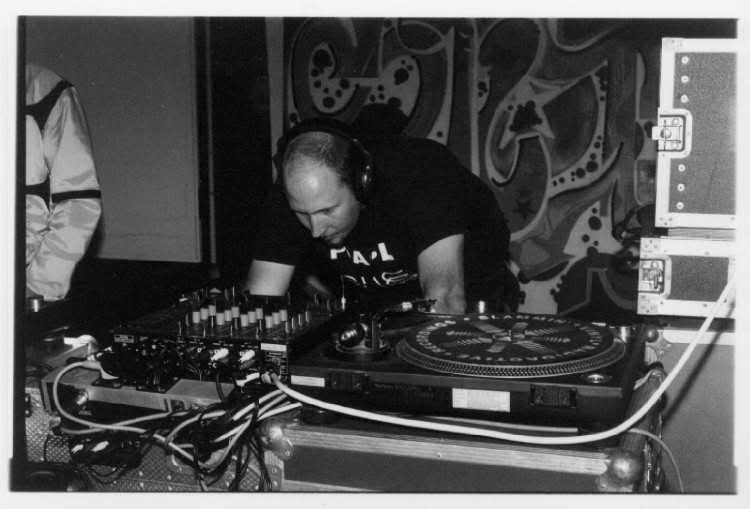 [2000-2001] Co-founded
dark eden
, at
Club Orpheus
in Baltimore with
Inox
. This was a sadly short-lived but nevertheless fun-filled weekly journey into dark ambient, apocolypic folk, and industrial sounds during late 2000 and early 2001.
[2001] Played a couple of guest spots at
Ultimatum
, a recurring row-house party at
Killtime
on Lancaster Avenue in West Philadelphia that apparently survived at least eight iterations.
[2002] On hiatus...played a few guest spots at various clubs in D.C. and Baltimore, but mostly sated my voracious appetite for new sounds at home or at shows during this period.
[2003] Appeared as a guest a few times at
Purgatorio
, a gothic-industrial event at
Dr. Dremo's taphouse
in Arlington, Virginia.
[2004-2005] Resident dj at
Chiaroscuro
, a nightclub/gallery event that was hosted at
The Edge
, a venue that has been bulldozed to make way for the new Washington Nationals baseball stadium. This event featured a rotating crew of over a dozen regular djs and frequent guests, playing a multitude of styles.
[2006] Played a couple of sets with Kirsten "Blue Vampire" Nickerson and other guests at her monthly event
Ecumenica
at the
Black Cat
in D.C.
[CURRENT] Co-founded
Atlantis
with
DJ Adina Watson
in January 2007. This event occurs weekly on Friday nights at the Sango Sho Deep Sea Lounge, located on the lower level of Cafe Japone in the Dupont Circle neighborhood in Washington, D.C. It features a goodly amount of ambient and lounge music jostling for position with the lastest indie rock & hipster fare. Setlists and other blather are
here
!
DJ Adina Watson
and I also join forces with
DJ BLackula
to present
Blackight
-- a dance party focused on black musicians and their influences that invades
DC9
once every month or two.
Promoted to Moderator on Tuesday, July 17th, 2007.