Glasgow, Scotland
Joined on May 11, 2005
Releases
Releases Rated 714
Rating Average 4.84
Marketplace
No seller rating
Buyer rating:
100.0% 190
Contributor Stats
Rank Points 1,233
Average Vote 3.89
Votes Received 71
Last 10 Day Average N/A
Last 10 Day Votes Received 0
Groups
Picture of my collection in October 2016: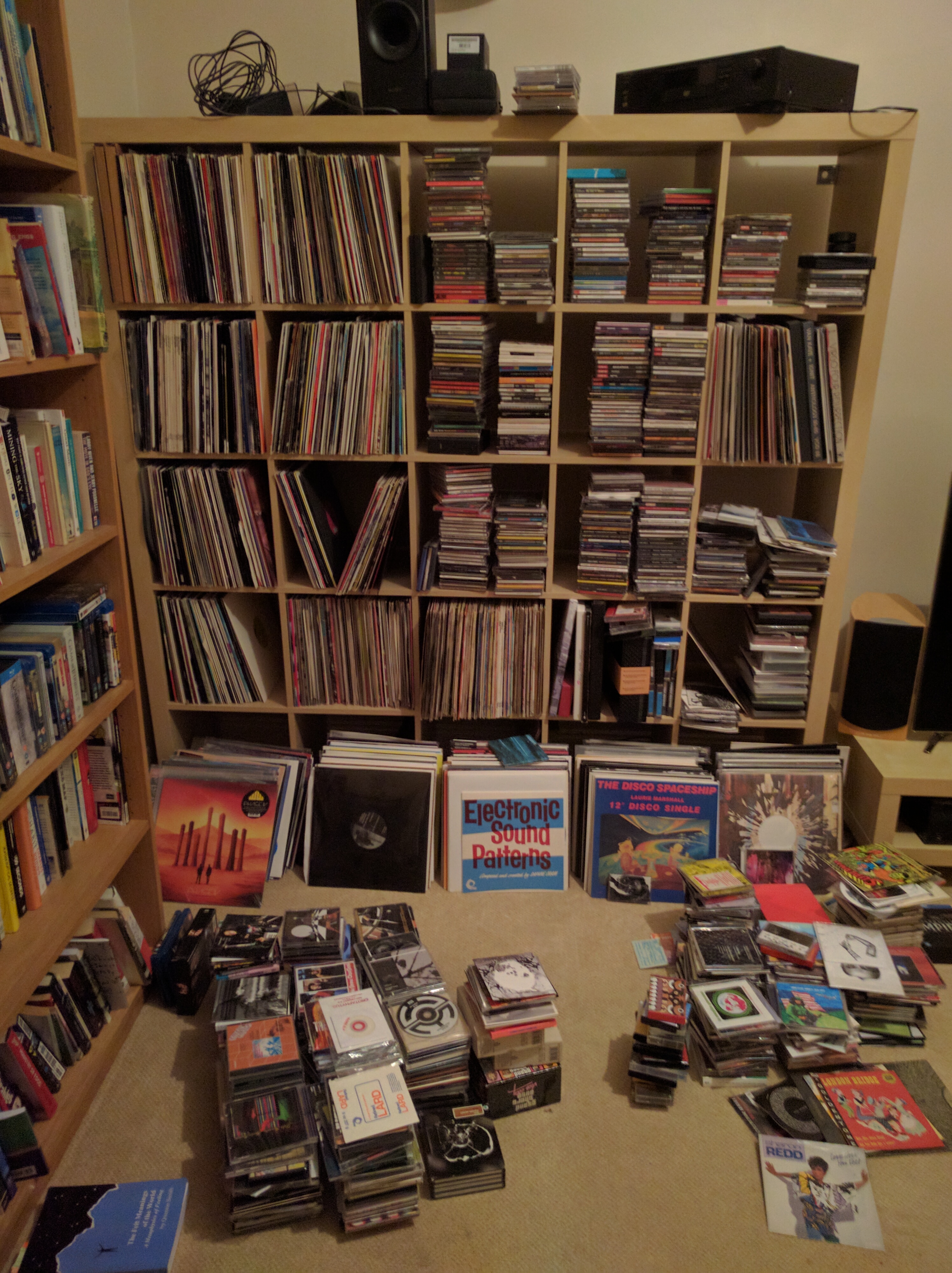 I also have a lot of digital releases (as in, legally purchased downloads). To be honest, I am starting to move in this direction over vinyl: I care much more for music than format. My day job is in software engineering, and thanks to the Discogs API, that's enabled me to build a lot of automation to make my digital collection easy to add to and maintain; I can import a digital release - fully tagged and so on - more or less with a single keystroke. I don't really have any interest in things like Spotify. These are great tools for more casual music listeners, but to me, it's infinitely more satisfying to maintain my own digital collection.
General Interests
=============
I'm really open minded about music and will give anything a try, but I'm particularly fond of this kind of stuff (in no order, except the first item):
Legowelt and all aliases (without a doubt my all time favourite artist), Ambient/Drone/Experimental, Techno, Acid, Old School Hip Hop & Electro, Old School Techno/Hardcore (R & S and the like), Electro (stuff like Drexciya, not shitty 'Electroclash' or 'Electro House' or any of that pish), Detroit Techno, Chicago House, Disco, Early Electronic/Musique Concrète/Tape Manipulation (BBC Radiophonic Workshop, Tod Dockstader, Xenakis etc.), Aphex Twin and all aliases, 60s/70s Krautrock, 60s/70s Psychedelic Rock, 60s/70s Italian Prog, Industrial (though more stuff like Throbbing Gristle, Severed Heads, Skinny Puppy etc., as opposed to Nine Inch Nails or stuff like that), Library Music, Soundtracks (especially horror), Italo Disco, Jazz, Exotica (like Martin Denny)...
I stopped collecting music for around 3 or 4 years, but I'm now back into it with a passion. Right now, I'm trying to complete a lot of excellent stuff I missed, but I'm also slowly keeping abreast of new stuff; in the near future, I'm going to put a lot more effort into identifying good new stuff.
Completion Projects (more to be added)
===============================
Legowelt
(all albums, EPs, compilations, remixes, and releases he appeared on; repeat for all his aliases (of which there are *many*))
Aphex Twin
(as per Legowelt, and the same applies to any other artist listed)
Ceephax Acid Crew
Le Syndicat Electronique
L.I.E.S. (Long Island Electrical Systems)
Strange Life Records
Bunker Records
Stilleben Records
Nightwind Records
Invasion Planète Recordings
Zusammen Records
Plague Recordings
Trunk Records
BAKK
Data Discs
Rephlex
Riverette
Unknown To The Unknown
Crème Organization
Roller Disco Records
(Even although this is only a mix CD label)
Drexciya
Heinrich Dressel
MinimalRome
Completion Projects (Soundtrack Stuff)
=============================================
Death Waltz Recording Company
Mondo (3)
One Way Static Records
Completion Projects (Krautrock and Old Psych Rock Stuff)
=============================================
Brain
Ohr
Pilz (2)
Kosmische Musik
Ratings
======
First, I just want to say, I love the fact that Discogs allows users to rate releases. Over time, you can use it to identify other users who have a similar taste to you, with the result that you can then generally rely on other releases they've rated 4 or 5. The 1 to 5 rating scale is fine and works well for a site like Discogs, but it does mean a bit of a limit in terms of expressing what you think. Here's my rating scheme:
5/5: I will rate an album 5 if every track is amazing, or if there are several tracks on the album that stop and make me think, "wow, this release is really worth having in my collection." Same applies to 12 inches, but on a lower scale. If there's 1 amazing track among 3 or 4 tracks on the record, I'd still be inclined to rate 5.
4/5: Very good or good, though perhaps I might not come back to it that often.
3/5: Meh. Would sell.
2/5: Awful. Would sell in a heartbeat.
1/5: As per 2, but maybe there's something wrong with the pressing or something like that. I don't think I've actually used this rating yet.