Helsinki, Finland
Joined on January 12, 2003
Releases
Releases Rated 6,585
Rating Average 3.97
Marketplace
Seller rating:
100.0% 102
Buyer rating:
100.0% 137
Contributor Stats
Rank Points 1,417
Average Vote 4.03
Votes Received 153
Last 10 Day Average N/A
Last 10 Day Votes Received 0
Groups
Profile
I'm a dj based in Helsinki, Finland. Deep house is the most important music style for me but I play various styles including techno, tech house and disco. I play vinyl.
If you want to book me for a gig, wish me to make a mix for your podcast or anything like that, please get in contact.
You may catch one of my sets live somewhere or online - streams at
Interstate FM
or recorded sets at
Soundcloud
,
Mixcloud (my mixes archive)
or
Youtube channel (dj'ing videos)
.
My latest mixtape
Detroit Is A Ghetto
was recorded a few days after the city of Detroit went bankrupt. The mix is a tribute to the house sound of the city. It's more like a soundtrack than a dancefloor mix, intending to bring a piece of the city into your living room.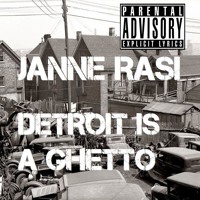 Tracklist (interludes not listed):
Theo Parrish feat. Craig Huckaby: Black Music (Sound Signature)
Inohs Sivad feat. Diamondancer: Somewhere Else (Third Ear)
Marvin Gaye: Heavy Love Affair (Motown)
Mike Grant: My Soul, My Spirit (Moods & Grooves)
Detroit Soul Project: Detroit Is A Ghetto (Extended Mix) (PAN)
Amp Fiddler: Superficial (Jan Mix) (Genuine)
Moodymann: Mahogani 9000/Mahogani Black (Peacefrog Records)
Andrés: Reality (KDJ)
Aaron-Carl: Sky (Tommi White Billsticker Mix) (New Icon)
Moody: Detriot '67 (KDJ)
Andre Harris: City Of Fear (Underground Resistance)
Theo Parrish: Heal Yourself And Move (Peacefrog Records)
Bsmnt City Anymle Kontrol: The Perfekt Sin (Wild Oats)
Vinyl only. Recorded with 3 x Technics SL-1200MK2 turntables and an Allen & Heath XONE:92 mixer.
Page views since 11th May 2012
Recent Activity