Releases
Releases Rated 918
Rating Average 4.93
Marketplace
Contributor Stats
Rank Points 4,254
Average Vote 3.83
Votes Received 93
Last 10 Day Average N/A
Last 10 Day Votes Received 0
Groups
I'm interested in buying 90's era west coast DJ mixtapes (House, Trance, Breaks, Jungle/Drum n Bass, Ambient, etc...).
Feel free to contact me if you are looking to sell yours :)
Check out my
open source
Google Chrome extension for Discogs.com!
Read about it here:
www.discogs-enhancer.com
Download it here from the
Chrome Web Store.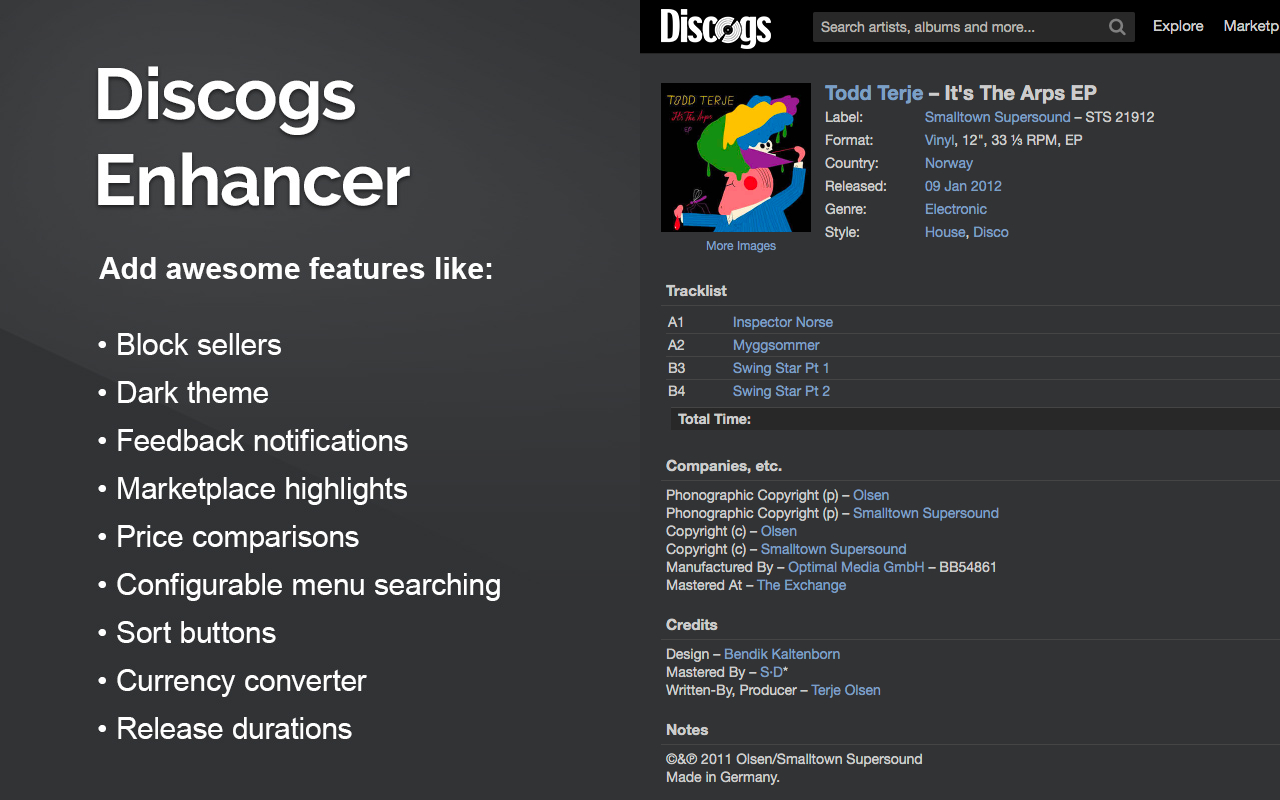 Features:
* Block Sellers
* Favorite Sellers
* Compare suggested prices to listed prices
* Contextual menu searching
* Quick currency converter
* Dark Theme (WCAG 2.0 AA compliant)
* Scan Artist/Label releases for comments
* Everlasting Collection
* Everlasting Marketplace
* Buyer/Seller feedback notifications
* Seller inventory ratings
* Get larger BAOI fields when editing releases
* Tag Sellers based on reputation
* Filter Marketplace items by media condition
* Filter Marketplace items by sleeve condition
* Filter Marketplace items by shipping country
* Open release links on the Collection page in new tabs
* Hide Min, Median, Max columns on the Collection page
* Marketplace Media/Sleeve condition highlights
* See the number of ratings/votes a release received in the Marketplace
* See release ratings/votes expressed as a percentage
* Notes character counter
* See actual dates an item was added to your Collection/Wantlist
* See the average sale price on the Release page
* View a random item from your collection from any page
* Remove an item from your Wantlist directly from the Marketplace
* See the total playing time for any release when track times are provided
* Sort dialog boxes and Marketplace filters alphabetically
* Easily format comments/reviews using Text Formatting Shortcuts
* Improve Tracklist readability