germany
Joined on October 23, 2007
Releases
Releases Rated 414
Rating Average 4.41
Marketplace
Seller rating:
99.4% 168
Buyer rating:
100.0% 1
Contributor Stats
Rank Points 18,883
Average Vote 3.53
Votes Received 212
Last 10 Day Average N/A
Last 10 Day Votes Received 0
about me and my collection
collector of usual and unusual records, mostly on vinyl.
special interests:
* krautrock, spacerock, progressive rock and psychedelia
* industrial, neofolk, dark ambient, noise
* german punk, new wave, and NDW
* acid techno, progressive techno, minimal techno, goa & all classic techno labels
* music from former German Democratic Republic and other eastern european countries
* contemporary composers, minimalism
* weird stuff: christian rock music, cheesy sacropop, nude covers, exotica
* private pressings, bootlegs, colored vinyl and picture disks
* records from my home area (
list
)
* folk music from around the world
* flexi-discs of the 1950s and 1960s
* signed records (
list
)
my personal collection has grown for about 35 years to more than 14.000 hand picked records. my discogs collection represents my personal collection with just a few items missing.
i submit every item from my collection that hasn't yet been added here. in august 2020 i entered the top 1000 of the discogs contributor list.
about my sales
in early 2017 i started to put up some records, tapes, and cds for sale in here. I mostly list uncommon stuff, often for sale by noone else in here.
do i offer something from your wantlist?
or maybe you just want to
explore my offers?
i will answer all question about sales items (condition/release/postage details etc).
you also might ask, if i sell any item out of my collection, but usually i won't. i will never sell or send audio files of any of my records.
PS: sending items from germany to other countries is ridiculously expensive since 2019. buy local and save postage!
bigger, better, faster, more
if you need more functions in discogs, then check out the ogger club:
https://ogger.club/
check out my youtube channel for some exclusive clips with music by me and friends:
http://www.youtube.com/user/bufu23bufu
big data is tracking you
people who read this profile page since october 2017 came from the following countries: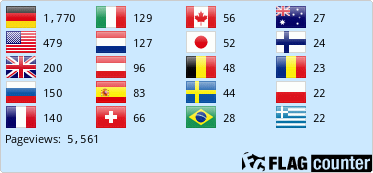 Recent Activity

submitted Chor Und Volksmusikkreis Der Städt. Singschule Kolbermoor - Musik Und Lieder Aus Dem Alpenland.

about 2 hours ago

submitted Barbara Thalheim & Streichquartett* - Was Fang Ich Mit Mir An.

about 3 hours ago

submitted Heino - Heino.

about 3 hours ago

submitted Milt Jackson - Bags' Opus.

about 3 hours ago

submitted Oschtalb Ruassgugga - Blech Power.

about 4 hours ago

submitted Alison Kinnaird - Die Keltische Harfe (The Harper's Gallery).

about 4 hours ago

submitted Leo Roth, Werner Sander - Meisterwerke Der Synagoge.

about 4 hours ago

submitted Various - Hits 64/65.

about 7 hours ago

submitted Grips Theater Berlin* - Ein Fest Bei Papadakis.

5 days ago

submitted Rädelchen - Spiel' Ein Lied Und Weine Nicht.

5 days ago

submitted Carl Orff - Herbert Kegel, Rundfunk-Sinfonie-Orchester Leipzig, Rundfunkchor* Und Kinderchor Leipzig*, Jutta Vulpius, Hans Joachim Rotzsch*, Kurt Rehm, Kurt Hübenthal - Carmina Burana.

5 days ago

submitted Valia Dimitrievitch Et Volodia Poliakof - Les Dernières Voix Tziganes.

9 days ago

submitted Hildegard Knef - Der Mond Hatte Frei.

9 days ago

submitted Unheilig - Als Musik Meine Sprache Wurde.

19 days ago

submitted The Velvet Underground - The Velvet Underground.

19 days ago

submitted Tom Petty And The Heartbreakers - Full House.

19 days ago

submitted Tante Friedas Jazzkränzchen - Dans les rues D`Antibes.

19 days ago

submitted Burnin' Alive - Tattoo Of The Devil.

19 days ago

submitted Avoid Bad Company - Sex Still Sells.

20 days ago

submitted Various - Kammermusik Live "Unter Der Glaspyramide" Vol. 3.

20 days ago

submitted Weiser Te - Das Erste Mal.

20 days ago

submitted Heaven's Cloud - Prinzipien.

20 days ago

submitted Männer Ohne Nerven (5) - Männer Ohne Nerven.

20 days ago

submitted Idiots In The Crowd - Idiots In The Crowd.

20 days ago

submitted Idiots In The Crowd - Street Busking Years.

21 days ago

submitted Jazzualdo - Strictly Vocal.

21 days ago

submitted MB Bigband - Dufte!!!.

21 days ago

submitted Thomas D - Die Rede des Häuptlings Seattle.

21 days ago

submitted MDC (2) - Millions Of Dead Cops / More Dead Cops.

24 days ago

submitted The Morganfields - Someday.

24 days ago

submitted Freddy's Dinner - Oligarchie.

24 days ago

submitted Heinz (25) - Born To Be Heinz.

25 days ago

submitted Out Of Norm - Attempts At Truth.

25 days ago

submitted André Eisermann, Charles Baudelaire - Die Dichtung Vom Haschisch.

26 days ago

submitted Tales Of Sorrow - From The Bottom.

26 days ago

submitted Aufbruch - 15 Jahre (1986-2001).

about 1 month ago

submitted The Trashmonkeys* - The Trashmonkeys.

about 1 month ago

submitted The Who - The Kids Are Alright.

about 1 month ago

submitted Thomas Heckel - Dreams.

about 1 month ago

submitted Abfluss - Punk-Terror... Und Ewig Schreit Das Volk.

about 1 month ago

submitted Daily Terror - Apocalypse.

about 1 month ago

submitted Various - Pearls Before Swine - 5 Years Sireena Records.

about 1 month ago

submitted Пурген, Diagens - Moscow Punx.

about 1 month ago

submitted Blue Note Project Voodoo Crew - Live At Substage.

about 1 month ago

submitted Hostile Hodge Podge - Current... Or Whatever Demo 2002.

about 1 month ago

submitted Various - 20 Jahre Förster Juz Saarbrücken - Best of... Compilation.

about 1 month ago

submitted Days Of Thunder - Starfighter Demo 2001/2002.

about 1 month ago

submitted Georgsgeyer Vocalensemble Mühlacker - Friede Auf Erden - Weihnachtslieder Aus Aller Welt.

about 1 month ago

submitted Spielleute Skadefryd - Westwind.

about 1 month ago

submitted Ray Charles - Blues, Gospel, Soul.

about 1 month ago