Saint Ouen (France)
Joined on September 5, 2002
Releases
Releases Rated 1,485
Rating Average 4.32
Marketplace
Contributor Stats
Rank Points 1,974
Average Vote 3.52
Votes Received 67
Last 10 Day Average N/A
Last 10 Day Votes Received 0
Groups
_
>
>
> Status : Graphic and sonic activist since 1984.
> Sonic: The Age Of Noise, Liquid 5ky, Empire & Dance, Ultrawerk, Alien Dub Stars...
> Visual:
fractallab.com
> In the air (4 u and me):
www.radio-activity.net
> Screen: H3R3_1_4M…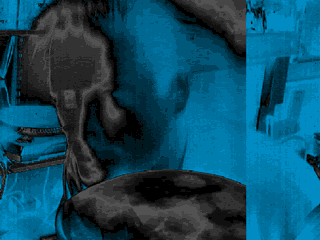 >
>
>_
Gears:
Mix:
2x Numark TTX1 with Stanton TrackMaster RS Heads;
Behringer DX052 5/2 channels mixer.
Visual:
Powerbook "Wallstreet" with Arkaos (dead cos' can't fly!)
Analog Studio:
Ensoniq EPS-16+ sampler w/ full RAM and SCSI (HD 500Mo + Syquest + ZIP100 w/battery) + Waveboys Effects;
Roland SH-101*;
Roland MC-202*;
Roland TR-606*;
Roland Juno 106;
Roland JX8p;
Roland JX10P "Super JX" + PG-800 programmer;
Roland MKS 50 + PG-300 programmer (I'm the Dominator...);
Marion Systems (Oberheim) MSR-2 Modular Synthesizer;
+
Mackie 12/02VLZ mixer;
+
Atari ST w/Cubase and Avalon (the greatest sound editor ever!) - obsolete but I can't throw it out;
+
Powerbook "Wallstreet" G3-500 (Sonnet accelerated) with Alchemy, Unisyn, Cubase VST32 (with VST instruments like Muon, Mercury, Pro-52 and PPG) and T-Rack;
Motu MidiTimePiece 128 serial/midi Interface connected to the Analog Studio;
Kenton Pro-2* midi-to-CV/gate interface driving SH-101 and MC-202 + TR-606 (synchro).
Numeric Studio:
— G4MDD 2x1.83GHz, RAM 2Go 5 HDs (Raptor 74Go SATA, Seagate 500Go PATA, Maxtor 160Go PATA, Firewire 320 and 128Go Drives);
— Emagic emi 6|2m audio and midi interface;
— Midisport 2x2 midi interface;
— Powerbook G4 12" 'Alu' 1.33GHz;
— Korg Legacy Collection software (MS-20+Polysix+Wavestation) with limited MS-20-like USB keyboard;
— Reason 1, 2, 3, 4 ("Je t'aime, moi non plus !");
— Apple (Emagic) Logic.