County of Essex, UK., country seat of 'Essex Girl' jokes, Medallion Man and hairdressers.
Joined on March 21, 2009
Releases
Releases Rated 1,325
Rating Average 3.52
Marketplace
No seller rating
No buyer rating
Contributor Stats
Rank Points 15,783
Average Vote 4.00
Votes Received 3,537
Last 10 Day Average N/A
Last 10 Day Votes Received 0
Groups
Profile
History?
An ex-art student of the 60's, scooter Mod, Notting Hill hippy, music industry ligger/circumstantial album cover & clothing designer, dweller of Middle Earth; the Revolution; Marquee; Tiles; Dingwalls; 100 Club; Roundhouse; Ricky-Tick; The Pheasantry; Villa dei Cesari; et al, ad agency art director, petrol-head & food snob.
Meanwhile, deep in the Batcave of Chateau Swagski...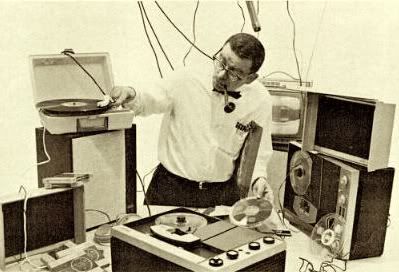 Packaging, Formats & Terminologies
Religion?
Played most of them. Some tracks I like. Best number so far is 'Creeds Divide God's Children'. When I die I shall probably go to Heaven, because I'm already residing on planet Hell, to paraphrase the old Vietnam war motto.
Conflict?
Let's make music, not war.

Drugs?
Roxy Music - Love Is The Drug
- probably, although
Don Van Vliet
's quote of "Love Over Gold" (Lebanese or otherwise) is more my cup of tea in getting high on life itself.
Music? Food? Sex?
Three forms of excellent and interchangeable gratification, preferably with an agreeable partner. See
Nelly Furtado
(I should be so lucky...)
Records?
I tend to hoard them, rather than collect them or sell them. My taste is pretty broad, although some country & western is bottom of the list. It's a bit too predictable.
Ratings?
If you wish to put the obvious implications of the 5-star rating to one side for a moment and listen to the recordings I've rated, you may prefer to wear the following clothing whilst so doing;
1. Pants.
2. Brown Corduroys (or Brown Pleated Skirt)
3. Casuals, or Zoot Suit
4. Birthday Suit
5. Holy Vestments (God of your choosing)

My preferred listening probably says more about me than anything else. However, my daily routine is controlled by a flux capacitor, fueled by social deviation in governmental & musical cultures, geared to the Hopituh Shi-nu-mu lunar calendar, so my tastes could go back to the future at a moment's notice:

It's not what I like. It's what you like that counts...
Like food, music needs lots of love, devotion and energy packed into it to taste good to the ears. Many of today's releases do for music what Dr Crippen did for his wife.
"Absolute truth is a very rare and dangerous commodity in the context of professional journalism".
Hunter S. Thompson
Recent Activity
Action
Description

posted a comment on The Jimi Hendrix Experience - Electric Ladyland.

over 4 years ago

Hi, not been around a while since my '1st press post' - I'm not entirely convinced regarding the UK blue sleeve print scenario, as outlined here: BLUE TEXT...

See full review

posted a comment on The Jimi Hendrix Experience - Electric Ladyland.

over 4 years ago

Hi, not been around a while since my '1st press post' - I'm not entirely convinced regarding the UK blue sleeve print scenario, as outlined here: BLUE TEXT...

See full review

posted a comment on The Jimi Hendrix Experience - Electric Ladyland.

over 4 years ago

Hi, not been around a while since my '1st press post' - I'm not entirely convinced regarding the UK blue sleeve print scenario, as outlined here: BLUE TEXT...

See full review

submitted Portishead - Dummy.

over 8 years ago

submitted Buddy Holly - Buddy Holly's Greatest Hits.

over 8 years ago

posted a review of John Mayall.

over 10 years ago

For me, having grown up in the heady early days of the British Blues scene, a Mayall gig poster was always a reliable compass to a great evening. Although I never rated his musical ability that highly, other than his blues-harp virtuosity, his sheer...

See full review

submitted Boz Scaggs - Silk Degrees.

over 10 years ago

submitted Technotronic Featuring Ya Kid K - Get Up (Before The Night Is Over).

over 10 years ago

submitted Frank Zappa - Apostrophe'.

over 10 years ago

submitted Captain Beefheart And Magic Band, The - Bluejeans & Moonbeams.

over 10 years ago

submitted Soundgarden - Badmotorfinger.

over 10 years ago

submitted Lyle Lovett - Natural Forces.

over 10 years ago

submitted Korn - Take A Look In The Mirror.

over 10 years ago

submitted Rage Against The Machine - Rage Against The Machine.

over 10 years ago

submitted Various - Anarchy In The UK - 30 Years Of Punk - Volume 1.

over 10 years ago

submitted The Prodigy - Invaders Must Die.

over 10 years ago

submitted Rod Stewart - Gasoline Alley.

over 10 years ago

submitted Dr John* - Desitively Bonnaroo.

over 10 years ago

submitted Captain Beefheart & His Magic Band* - Trout Mask Replica.

over 10 years ago

submitted Captain Beefheart & His Magic Band* - Trout Mask Replica.

over 10 years ago

submitted Sherrick - Just Call.

over 10 years ago

submitted Limp Bizkit - Chocolate Starfish And The Hot Dog Flavored Water.

over 10 years ago

submitted Limp Bizkit - Chocolate Starfish And The Hot Dog Flavored Water.

over 10 years ago

submitted Derek And The Dominos* - Layla And Other Assorted Love Songs.

over 10 years ago

submitted Lalo Schifrin - Jaws.

over 10 years ago

submitted The Cars - My Best Friend's Girl.

over 10 years ago

submitted The Intruders - I Bet He Don't Love You (Like I Love You).

over 10 years ago

submitted Frankie Valli / Gary Brown (2) - Grease.

over 10 years ago

submitted Herb Alpert - Keep Your Eye On Me.

over 10 years ago

submitted ABBA - Take A Chance On Me.

over 10 years ago

submitted Shakin' Stevens - I'll Be Satisfied.

over 10 years ago

submitted Various - The Metal Hammer Golden Gods 2004 - The Album.

over 10 years ago

submitted Prince And The Revolution - Girls & Boys.

over 10 years ago

submitted Freddie James - Get Up And Boogie (Edit.).

over 10 years ago

submitted Raffaella Carra* - Do It, Do It Again.

over 10 years ago

submitted Matthew Wilder - Break My Stride.

over 10 years ago

submitted Starlight - Numero Uno.

over 10 years ago

submitted Zappa* - Joe's Garage Acts I, II & III.

over 10 years ago

submitted Prodigy* - Breathe.

over 11 years ago

submitted Derek And The Dominos* - Layla And Other Assorted Love Songs.

over 11 years ago

submitted Tommy James & The Shondells - The Best Of Tommy James & The Shondells.

over 11 years ago

posted a comment on Captain Beefheart And The Magic Band / Zappa* - Commemorative Set 1972 - 1975 [With Bonus].

over 11 years ago

In response to "I think it should be noted that these Box-Sets also include an Official reproduced 'Knebworth Festival 1975 Programme, Flyer & Ticket" - 2 repro programmes are included, as per images of this '25' set, along with a T-shirt. However, no...

See full review

submitted Captain Beefheart - The File Series.

over 11 years ago

submitted Bangles - Walk Like An Egyptian.

over 11 years ago

submitted Sheep On Drugs - From A To H And Back Again.

over 11 years ago

submitted Various - Razor: Music From The Cutting Edge (Vol. 4).

over 11 years ago

submitted Herb Alpert And The Tijuana Brass* - This Guy's In Love With You.

over 11 years ago

submitted David Essex - Rolling Stone.

over 11 years ago

submitted Wizzard (2) - Are You Ready To Rock.

over 11 years ago

submitted Wizzard (2) - This Is The Story Of My Love (Baby).

over 11 years ago