Montreal, Canada
Joined on April 11, 2015
Releases
Marketplace
Seller rating:
100.0% 9
Buyer rating:
100.0% 1
Contributor Stats
Rank Points 3,763
Average Vote 3.69
Votes Received 35
Last 10 Day Average N/A
Last 10 Day Votes Received 0
Groups
What brings you here?
Pretty much everything floats my boat;
Mozart
to
Metallica
and everything in between.
I play music, as well: classical and electric guitar, bass, as well as the penny whistle, the kazoo and the recorder, if those count.
I have a shop; check it out, you'll never know if I have something of your interest.
"When the world is running down, you make the best of what's still around"
-- Sting, 1980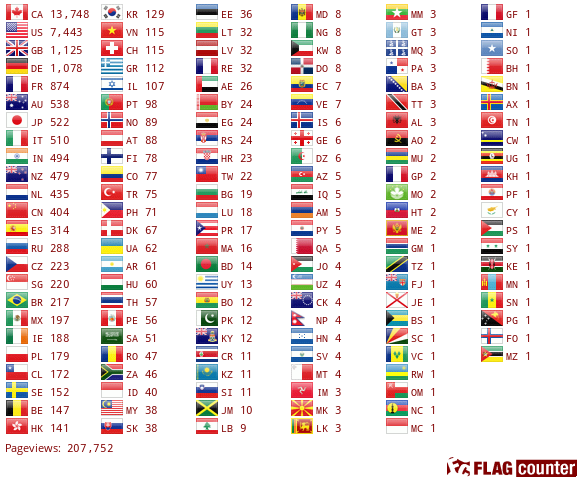 Recent Activity

submitted C. Ph. E. Bach* • Joh. Chr. Bach* • Mozart*, Das Münchener Bach-Orchester* Dirigent Karl Richter - Symphonien D-Dur • B-Dur • A-Dur.

3 days ago

submitted Sylvia Rhys-Thomas, Helmut Deutsch - Haydn – Schumann – Strauss.

14 days ago

submitted ԱՍՏՈՒՐ ՊԱՂՏԱՍՍԱՐԵԱՆ* = Astour Baghdassarian - ԵՄ ԿԵԱՆՔՆ ԱՅՐՈՔՒՄ Է = Em Gyankn Ayroum E.

15 days ago

submitted Rosy Armen - Rosy Armen.

18 days ago

submitted Hratch Der Sarkissian Sings Ara Alexanian - Gue Hishes Sirelis: Armenian Modern & Folk Songs.

18 days ago

submitted Adiss Harmandyan* - Էլ Չեմ Գայ = El Tchem Ka.

18 days ago

submitted Das Bunte Tanzorchester, Macky Kasper - Komm, Tanz Mit Mir! 1. Folge (10 Spitzenschlager).

18 days ago

submitted Manuel* - Սիրոյ Խոստումը = Promise Of Love.

18 days ago

submitted Information Society - Peace & Love, Inc..

18 days ago

submitted Evelyn Lear, Thomas Stewart (2) - Romantische Duette.

22 days ago

submitted Le Show - Hymne A La Vie.

about 1 month ago

submitted Betty Wright - Make Me Love The Rain / Goodbye You Hello Him.

about 1 month ago

submitted Diana Ross & Lionel Richie - Endless Love.

about 1 month ago

submitted Claude Dubois - La Pollution.

about 1 month ago

submitted Rimsky-Korsakov*, The Philharmonia Orchestra* Conducted By Lovro Von Matacic - Scheherazade.

about 1 month ago

submitted Johanne Blouin - Sainte Nuit.

about 1 month ago

submitted The Beatles - Meet The Beatles!.

about 1 month ago

submitted Tessa Birnie - Piano Music By New Zealand Composers.

about 1 month ago

submitted Eduardo Falú - Eduardo Falú.

about 1 month ago

submitted Alirio Díaz, Albeniz*, Falla*, Granados*, Llobet*, Malats*, Milán*, Mudarra*, Narvaez*, Rodrigo*, Sanz*, Sainz de la Maza*, Scarlatti*, Segovia*, Sor*, Tarrega*, Torroba*, Turina*, Villa-Lobos* - The Classic Spanish Guitar.

about 1 month ago

submitted Jimi Hendrix - Blues.

about 1 month ago

submitted Julian Bream, Sor*, Turina*, Falla*, Villa-Lobos*, Torróba* - Guitar Recital.

about 1 month ago

submitted Kenny Burrell - All Day Long.

about 1 month ago

submitted Benjamin Hoff - The Tao Of Pooh.

about 1 month ago

submitted Wes Montgomery - The Best of Wes.

2 months ago

submitted The Cult - Love.

2 months ago

submitted Steve Miller Band - The Joker.

2 months ago

submitted Janis Joplin - Pearl .

2 months ago

submitted Joan Baez - The Contemporary Ballad Book.

3 months ago

submitted The Supremes - Where Did Our Love Go.

3 months ago

submitted Scott Joplin - The Entertainer.

3 months ago

submitted Various - Swing Baby Swing! House Rockin' Swing And Jump Jive Boogie.

3 months ago

submitted Joe Williams - Chains Of Love.

3 months ago

submitted Buddy Rich - Buddy Rich.

3 months ago

submitted Garland Jeffreys - Ghost Writer.

3 months ago

submitted Alphaville - Forever Young.

3 months ago

submitted Villa-Lobos*, Alberto Boavista - Villa-Lobos E As Crianças, Vol. 2.

3 months ago

submitted The Devil Makes Three - I'm A Stranger Here.

3 months ago

submitted Slim Sandy & The Hillbilly Boppers - Sweet Rockin' Mama / I'm Ready.

4 months ago

submitted Nat King Cole - St. Louis Blues, Part 1.

4 months ago

submitted Finished Touch - The Down Sound.

4 months ago

submitted Jesse Cook - Nomad.

4 months ago

submitted Ronnie Earl & The Broadcasters* Featuring Per Hanson, Rod Carey And Bruce Katz - Grateful Heart - Blues & Ballads.

4 months ago

submitted Santana - Santana.

5 months ago

submitted Orson Welles - I Know What It Is Like To Be Young (But You Don't Know What It Is To Be Old).

5 months ago

submitted Robert Duval (2) - Sans Le Whisky Blanc / Un Cheveu Blanc.

5 months ago

submitted Vladimir Horowitz, Chopin*, Schumann*, Rachmaninoff*, Liszt* - Columbia Records Presents Vladimir Horowitz.

5 months ago

submitted Orquestra De Pereira Dos Santos Ê Coro De Joab - Folia 1972.

6 months ago

submitted Einojuhani Rautavaara, Usko Meriläinen, Finnish Radio Symphony Orchestra* Conducted By Leif Segerstam - Rautavaara: Angel Of Dusk / Meriläinen: Concerto For Double Bass And Percussion Instruments.

6 months ago

submitted Albeniz* / Alicia De Larrocha - Iberia-Navarra.

6 months ago